Welcome to the first in my series of posts on gift ideas for the family with a focus on natural, nourishing, and green. Today, I would like to share some recommended picks for the nourishing mama – simple kitchen and household accessories that will help you provide good healthy cooking for your family, but at the same time not adding additional clutter. I avoid gadgets at all costs, but I love receiving gifts that are very practical and multi-purpose.
KITCHEN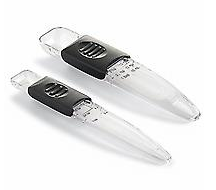 Adjustable Measuring Spoons – I don't know about you, but I love having only two spoons in my kitchen drawer for all my baking needs! Pampered Chefs sells this wonderful set (Tablespoon & teaspoon collection) for only $8. Easy to clean, and easy to use!
Wooden/Bamboo Kitchen Utensils – Wooden or bamboo kitchen utensils are simply wonderful for natural home cooking. You will find wooden tools work so much better and no fear of plastics or scratches! Amazon sells a great variety of wooden utensils for your kitchen. The pasta tool is on my wishlist this Christmas! These bamboo salad tongs are awesome! Check out this cool maple soup ladle! Wooden utensils are usually cheaper than their plastic competition, $4-7 each!
Wooden Cutting Boards – I absolutely love wooden cutting boards! They are long-lasting, durable, and wonderfully useful for all your cutting needs! Check out Totally Bamboo for great quality and sustainability in various sizes and prices.
Stoneware – Since receiving a few items of stoneware from Pampered Chef after hosting a show this summer, I cannot say enough as to how wonderful they work in the kitchen. Completely natural cooking surfices that provide well balanced heat distribution. No chemical linings or glazes, and always produces beautiful results! I have the pizza stone, muffin tin, and square baker and they are used all the time now in my kitchen! Check out the Pampered Chef stoneware.
Cuisinart Safe Non-Stick Pan – I received this pan last year for Christmas and highly recommend it! Safe non-stick surface that works perfectly for crepes, omelets, eggs, and many other uses.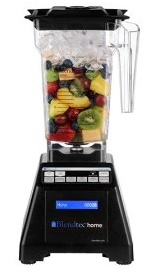 Blendtec Total Blender – This machine does it all! A great way to get quality but simplicity in your kitchen. The Blendtec Blender is a commercial-quality 1,560-watt countertop blender with 3 HP direct-drive motorcan that can grind grain, make ice cream, knead dough, function as a basic food processor, and most importantly a very high powered blender. Vitamix is in the same line as the Blendtec and another great alternative, but I choice the Blendtec because it fits under your counter top cupboards, shuts off automatically, and has easy digital touchpad controls, making it easier to use while juggling other kitchen tasks! This a true multi-purposing kitchen item that will last! At $400 it is spendy but worth every penny, especially if you are wanting a mixer, grinder, food processor and cannot afford each of these items individually. I use it several times a day making homemade raw apple sauce, peanut butter, salsa, protein bars, muffins, green smoothies (yes, it blends those greens so smoothly you never know they are there!), and numerous other uses.
BODY/FRAGRANCE PRODUCTS
Bare Minerals Get Started Make-Up Kit – This basic set of natural mineral makeup has lasted me for two years now!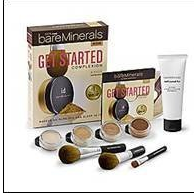 Beyond buying another container of warmth (their variety of blush) I still have plenty of all the other items in this well-rounded make up collection set. I highly recommend it! For my full review, visit here.
Make some homemade deodorant or homemade perfume for some nice natural skin care!
Vegetable/Soy Wax or Beeswax Candles - Candles made from beeswax are very natural and safe for your home. Paraffin is a substance that is rather toxic and is the standard ingredient in most candles. I love candles! Look for 100% beeswax or soy wax…they like to combine them with paraffin to trick you!

BOOKS
Sewing Green: 25 Projects Made with Repurposed & Organic Materials
– Do you like sewing? Check out this fun book with lots of ideas for repurposing items around your home into fun, new, inventive clothing and household items.
Home Cheese Making: Recipes for 75 Delicious Cheeses
– want to learn how to make cheese? Check out this fun book! Also check out the Mozzarella/Ricotta cheese making kit from Cultures for Health.
Womanly Dominion: More Than A Gentle and Quiet Spirit by Mark Chanski- my favorite read this year on Biblical womanhood. Highly recommended!
From Clutter to Clarity: Simplifying Life from the Inside Out by Nancy Twigg – my favorite read this year on simplifying! I love it!
The Mission of Motherhood: Touching Your Child's Heart for Eternity – my favorite book on seeing mothering as a mission from God!
The Kindle Wireless Reading Device is an amazing gift idea. It's on my wishlist (maybe someday -for now I am happy with the free Kindle edition for the I-phone)!

Books require a lot of paper and energy to make. Reading digitally saves on resources and saves us money. It is a portable reading device with the ability to wirelessly download books, blogs, magazines, and newspapers. Kindle is also easy on the fingertips. With Whispernet, you can be anywhere, think of a book, and get it in one minute. I love the idea of having a book with me at all times without wasting paper and is also easy on the eyes! Not too bad at $259.
What is on your wishlist? Have any good natural gift ideas for her that you might recommend?