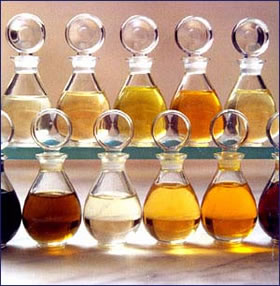 Stacy asked:
I have a 3 month old baby and it's caused me to rethink my use of perfume.  Do you know of any natural ways to smell beautiful?
Essential Oils! Pick your favorite scent and apply a dab to your neck and wrists and away you go. Essential oils, especially scents such as sandalwood and lavender, are very fragrant and you only need a drop on your finger to give you a lovely fragrance. You can really just choose your favorite essential oil fragrance and stick with that, or you can also combine scents for some intoxicating perfumes. I found a few homemade natural perfume recipes online. Check out these ideas!
Or you can find an array of combination's of natural perfumes on the market. Mountain Rose Herbs sells some lovely aroma oils combination's as well.
Orient Nights Perfume – a combination of sandalwood, musk and frankincense!
Rose Blend
How to Make Your Own Perfume with Essential Oils – a helpful tutorial and guide by Wikihow
This is a guideline of each essential oil's scent provided by WikiHow:
* Earthy Scents: patchouli, vetiver.
* Floral Scents: geranium, jasmine, neroli, rose, ylang-ylang.
* Fruity Scents: bergamot, grapefruit, lemon, lime, mandarin, orange,lemongrass.
* Herbal Scents: angelica, basil, chamomile, clary sage, lavender, peppermint, rosemary.
* Spicy Scents: black pepper, cardamom, cinnamon, clove, coriander, ginger, juniper, nutmeg .
* Woodsy Scents: cedarwood, cypress, pine, sandalwood.
For the best prices on essential oils, check out Vitacost.
Do you have any recommendations?