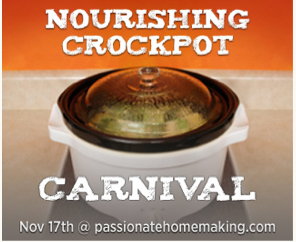 Welcome to the Nourishing Crockpot Carnival! So glad you could join me today! This is a place where we are all uniting together to share crockpot recipes that will help busy wives and moms prepare nutritious meals for your families. Are you in a busy season of life? Do you want to serve nutritious whole foods for your family but overwhelmed by the time and effort it may take? Do you have those full scheduled days running errands, here and there, and then come home and become stressed trying to throw dinner together? I personally have been there and love simple meals for busy moms! There are so many days that I have a bit of energy in the morning, but as the day wears on, it goes out the window and who feels like making dinner? Crockpots are simple and very useful tools for helping simplify and maximize your time and energy! Make the meal together in the morning, clean up the mess, and let it cook away. Dinner comes and there is no mess or extra stress. Yah! I am totally there!
So, let's begin!
Nourishing Crockpot Recipes
1. Homemade Yogurt in the Crockpot
2. Fresh Stock in the Crockpot (Nourishing Days)
3. Crockpot Ragout (a simple easy meal for a busy day!)
4. Crockpot Chicken or Beef Enchiladas (this is a family favorite at our house!)
5. Crockpot Sloppy Lentils (a frugal meatless dinner)
6. Crockpot Chili (did you know you can throw pretty much any soup into the crockpot for the day?)
7. Spicy Chicken and Sweet Potato Stew (Staci @ International Mama)
8. Slow Cooker Recipes (Katie @ Kitchen Stewardship)
9. Crock Pot Steel Cut Oats (Sonja @ Granola Girl at Heart)
10. Cheesy Potato Soup (Jodi @ One Blessed Mama of Boys)
11. Index of Crockpot Recipes (Kelly @ Kelly the Kitchen Kop)
12. Multi-Grain Cereal w/Applesauce (The Monkey's Mama)
13. Rotisserie Chicken in the Crockpot (Amy @ New Nostalgia)
14. Coconut Curry (Hannah @ Mulberry Spot)
15. Crockpot Ideas -Roast with Applesauce (Emily @ Life in Cincinnati)
16. Crockpot BBQ (Danielle @ Naturally Knocked Up)
17. Spiced Apple Cider (Sarah @ Sarah's Musings)
18. Double Chocolate Cake w/Hot Fudge Sauce (Sarah @ Sarah's Musings)
19. Boeuf Bourguignon (Sarah @ Sarah's Musings)
20. Carmalized Onion Marmalade (Sarah @ Sarah's Musings)
21. Savory Bean & Spinach Soup (Shaina @ ShainaChristine)
22. Southern Bacon & Beans, Potato Soup (Randi @ TheraFoodics)
23. Tuscan White Bean Soup (Joy @ Graceful Words)
24. Thanksgiving Sweet Potatoes (At Home Momma)
25. Crockpot Teriyaki Chicken (Katie @ Mexican Wild Flower)
26. Taco Soup Recipe (A Virtuous Woman)
27. Crockpot Recipes & Tips (Stephanie @ Keeper of the Home)
28. Cream Cheese Crockpot Chicken (Amanda @ The Rural Bohemian)
29. Amish Pot Roast (Amy @ River Rock Cottage)
30. Refried Black Bean & Pinto Dip (Hallie the Homemaker)
31. Chicken and White Bean Stew (Kari @ Eating Simply)
32. Roast Mushroom Sauce (Jennifer @ MrsBic)
33. Slow Cooker Pinto Beans (Shannon @ Nourishing Days)
34. Chicken Crockpot Pie (Tawnya @ This Great Life)
35. Swiss Steak (Julie)
36.Chicken Cacciatore (Meghan @ Unintended Housewife)
37. Split Pea Soup (Tammy @ Simply Healthy Tasty)
38. Yummy Chicken and Rice Soup (Marsha @ Taste and See)
39. Crockpot Recipes (SnoWhite @Joy in My Kitchen)
40. Corn Chowder & Squash Soup (Allison @Hospitality Haven)
41. Pot Roast & Enchiladas (Shelley @ Make A Home Mom)
42. Crockpot Spaghetti Sauce (Kimi @ The Nourishing Gourmet)
43. Braised Beef Short Ribs (Alexis @ Happy 2 Be Homekeeper)
44. Moroccan Red Lentil Soup (Sherrin)
45. White Chicken Chili (Amy)
46. Pork Roast & Sauerkraut (Jacqualine)
47. Pot Roast (Sheena & Sheanna)
48. 6 Favorites: Granola to Chili (Kari @ Home with Purpose)
49. BBQ Chicken in the Crockpot (Felicia)
50. Chili Con Carne w/Cornbread topping (Chaya @ Comfy Cook)
51. Grilled Thai Beef Salad (Chaya @ Comfy Cook)
52. Crockpot Spinach Sausage Soup (Chaya @ Comfy Cook)
53. Chicken Cacciatore (Chaya @ Sweet & Savory)
54. Chulet – Jewish Recipes (Chaya @ Sweet & Savory)
55. Crockpot Pepper Steak (Chaya @ Sweet & Savory)
56. Chicken Tortilla Soup (Amy)
57. Crockpot Pork Chops (Denise @ Mommy Musings)
58. Spicy White Chicken Chili (Jessica @ Kohler Created)
59. Beef Stew with Chilies (Life as A Symphony)
Plus…check out all the yummy recipes in the comments! Thanks everyone for participating!
Further Resources:
How to Use A Crockpot – 101
A Year of Slow Cooking – one families adventure to cook using a crockpot for 365 days. Find a wealth of recipes!
How to Participate:
1. Share your recipes in a post on your personal blog. Come back and add the link below in the comments. I will then compile them and add them to this post. Feel free to add as many recipes as you would like. You can also add previously posted recipes. Please be sure to add a link back to this post so your readers can find other nourishing recipes.

2. If you do not have a blog, feel free to submit your recipes in the comments of this post.

If possible, please submit recipes that are made from whole food ingredients, or include homemade varieties of any processed food it might include, that way we can give people the option to adjust. If you don't know where to begin in adapting your favorite crockpot recipes to be more nourishing, go ahead and submit them and we will offer tips and suggestions for you! We want this to be helpful for one and all, whether you are an old-timer in the nourishing foods camp, or whether you are new and eager to learn.
D0 you have any resources or tips to share when using the crockpot? Feel free to share!