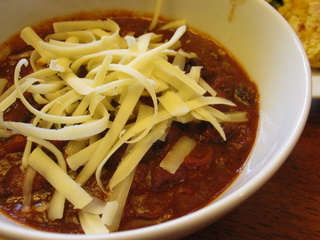 This is by far one of the most nutritious and yet frugal meals I make. A variety of beans cooked into chili with the grains in the cornbread provide a complete protein! Finding a good chili recipe is not an easy task, but with some experimenting, trial and error, I think I have come up with a very yummy version. It has a bit of kick to it, but a lot of flavor! My hubby loves this chili! If making for littles, add the spices at the end after taking some out for the littles, if desired.
Both chili and cornbread freeze well, so I make a large batch and freeze both in smaller portions. I keep chili in the fridge to use for different lunches throughout the week – baked potato bar, chili cheese burritos, nachos, chili over hot dogs, etc.
You can also make chili in the crockpot for an easy meal! See directions below.
1 lb. ground turkey, beef, or go meatless
1 29 oz. can tomato sauce plus 1 -15 oz can of tomato sauce
1 large can of diced tomatoes (29 ou.)
1 large onion, chopped
1 green pepper, optional
2-3 Tbls. or more taco seasoning mix
4 cups cooked beans (I do a combo of black, pinto & kidney)
1/8-1/4 tsp cayenne pepper
1/4 cup rapadura or natural sweetener (rapadura gives it a little sweetness to balance the flavor!)
1-2 tsp. oregano
3/4 tsp pepper
2 tsp salt
3 tsp cumin
1-8-1/4 cup chili powder, as desired
Cooking beans - You can always choice the canned option, but cooking your own beans is simple and cheaper. Soak beans overnight in water (1 part beans to 6-8 parts of water) and 2-3 Tbsp. of whey/lemon juice/vinegar, if desired, to impart valuable enzymes. After soaking, rinse thoroughly and add fresh water to cover the beans (about 1 part beans to 3 parts water). Cook approx. 8 hours on low (I prefer in the crockpot). Use 4 cups for chili, or more as desired, and freeze the rest for other dishes or for your next batch of chili!
For Chili -Saute ground turkey in oil with onions and peppers. Cook until browned. Add the taco seasoning mix. Taste and add more as desired. (This is the key to good chili!) Add remaining ingredients. Bring to a boil, reduce heat to low. Simmer for 1 1/2 hours. Makes 10-12 servings.
Crockpot Chili – If you want to get dinner prepared in the morning, try the crockpot version! Cook meat, onions, and peppers in a saucepan until browned. Place in your crockpot with remaining ingredients and allow to cook over low heat for 5-6 hours.
Cornbread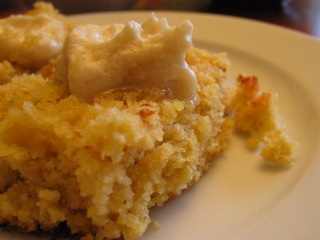 I love soaking Sue Gregg's cornbread recipe and it is simply delicious! Read here about the valuable benefits of soaking your grains. We love it topped with a whipped butter and honey spread. This recipe can be used with whole grains ground in the blender or with flour in a regular mixing bowl. Yum!
Amount: 8″ Square Baking Pan (12-16 pieces)
Bake: 350 degrees F (175 degrees C) 25-35 minutes

1. Place in blender; blend at high speed 3-5 minutes (the blender will "grind" the grain into a batter in the liquid medium. If it is a little gritty, blend more or let it set overnight for a smoother batter using the two stage soaking method.

1 cup kefir (my first choice!), buttermilk, sour milk, or yogurt
1/4 cup melted butter or olive oil
or 2 tablespoons each butter and oil (I use 2 Tbsp of coconut oil & 2 Tbsp olive oil or butter)
3 tablespoons maple syrup or honey
2/3 cup whole kernel dry corn
2/3 cup whole wheat pastry grain or 3/4 cup kamut grain
If you would like to use flour, use 1 cup of cornmeal and 1 cup of whole wheat pastry flour or kamut flour in replacement for the grain above.
Second Stage: Optional (Recommended) Cover blender or bowl. Let batter stand at room temperature overnight or about 12-24 hours.
Add 2 eggs & blend
2. Mix in thoroughly, but briefly, using blender and/or rubber spatula as needed:
2 teaspoons baking powder
1 teaspoon salt
3. Pour batter immediately into greased baking pan. Bake at 350 degrees F (175 degrees C) 25-35 minutes or until knife or toothpick comes clean out of center.