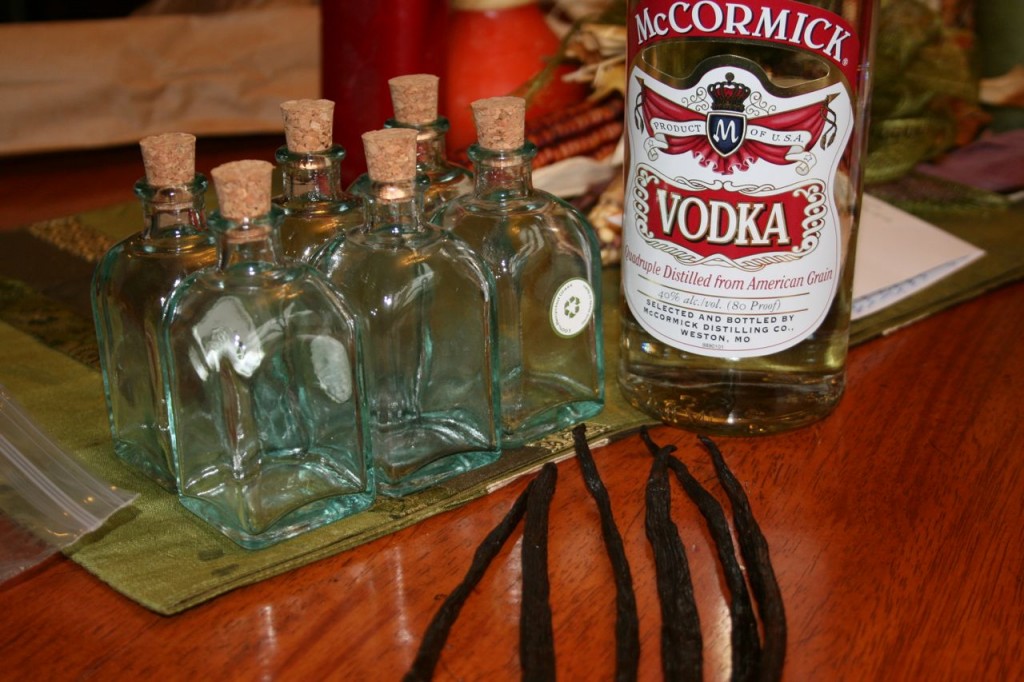 I absolutely love vanilla extract! Talk about a fun, easy and delicious homemade gift idea! Organic vanilla extract can be quite spendy at the store, and with these cute jars you cannot go wrong in blessing family and friends and your own kitchen cupboard. I made 6 (4 oz bottles) this last weekend and they are steeping away nicely in my cupboard ready for Christmas baskets. Here's how I did it:
Supplies:
6 Vanilla Beans
6 (4 oz jars)
24 oz. vodka
I purchased the vanilla beans and recycled glass cork top bottles from Mountain Rose Herbs. The vanilla beans are sold by the 1 oz (which is 6-9 beans) for $9.00, making it about $1-1.50 per bean. The jars were $1.60 each. I purchased the vodka at my local liquor store for $10 for 750 ml (which I figured out is about 26 oz). So you are looking at less than $5 per 4 oz jar, compared to easily double that amount at your local health food store. And with reusable glass jars, you can save even more with future batches (if you are making it for yourself, that is). The beans smelled fabulous! I cut them down the center with scissors and then into 2 inch pieces and put them in the jars. I then filled each jar with vodka and put the top on! That's it! You must steep them for 8 weeks. Once you have used half the jar, you can refill the jar to the top with more vodka to stretch it even more! Make sure to make a note of this when you send it for gifts. You can also save room to sweeten with a 3/4 tsp of rum per bottle after it has steeped.
You can also use this recipe and steep them altogether, but since I was in a rush getting them ready for Christmas, I chose to steep them individually, so I could send them on their way.
Aren't they adorable? I just have to make a cute little label tag to go with them! That's more natural living on a budget for you!