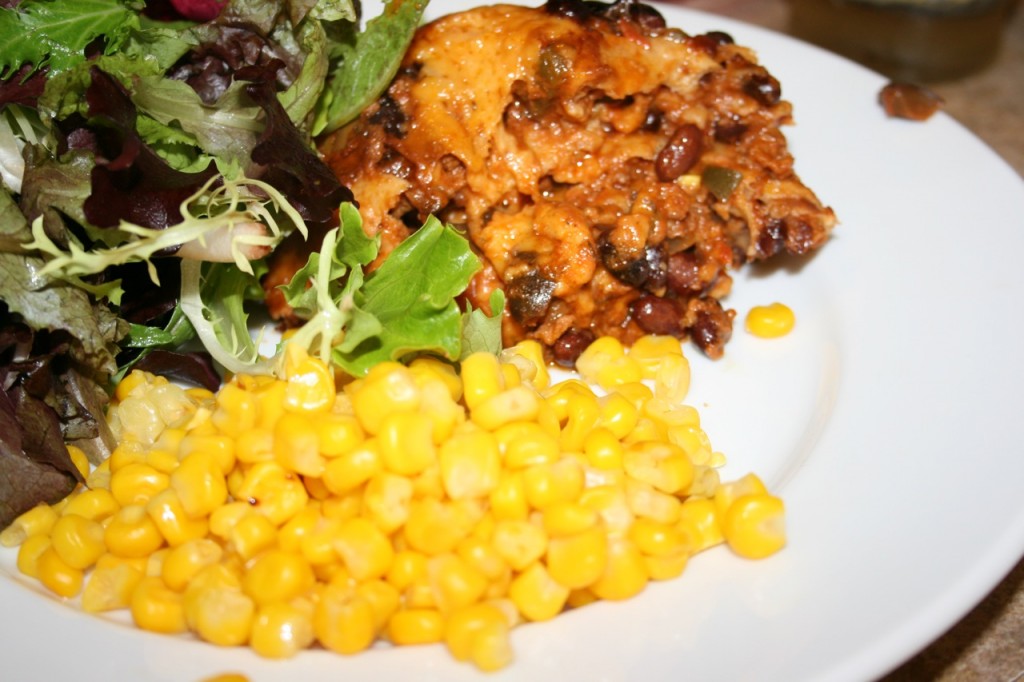 This is a family favorite meal at our house! Serve with some homemade refried beans, corn and/or a green salad and you have a wonderful meal. Dollop with a little extra sour cream! I make this recipe in two 8×8 pans for our family and freeze one for another day. Works very well for freezing, by simply skipping the baking step till later. This is the recipe we used for our freezer meal service project. Enjoy!
2-3 cups chicken, cooked & shredded (I use the leftover chicken pulled off the bones after cooking up a whole chicken, but you can also cook 2-3 chicken thighs and then shred them), or 1 pound ground beef or turkey
1 large onion
3 garlic cloves
1 (29 oz) can of enchilada sauce (homemade is best and free from any preservatives, try this easy recipe here – it works great!)
2 (4-6 oz) cans chilis, optional
1 cup sour cream or cream of mushroom soup substitute
1 (15 oz) can of olives, sliced
1-2 cups kidney or black beans, if desired
cheddar cheese, grated (raw cheddar cheese is the best!)
12 tortillas, homemade or whole wheat
Combine garlic and onions and fry in a little oil until golden brown. Add chicken, enchiladas sauce, chilis, olives and just enough sour cream to make a creamy consistency. It will be runny, but that's okay. Add kidney beans, if desired to make a complete protein. Allow to simmer for 10-15 minutes. Layer flat in a 13×9 pan, starting with a thin layer of sauce, tortilla, sauce, cheese, tortilla, etc. ending with a layer of cheese. Cover with tin foil, and bake at 350 for 30-35 minutes until heated through and cheese is melted. Allow to sit for 10-15 minutes otherwise it will be on the runny side.
For the Crockpot:
Cook meat, onions and garlic in a large saucepan over medium eat until nicely browned. Add enchilada sauce, chilis, sour cream, olives, and black beans and mix until well combined. Cover the bottom of your crockpot with a thin layer of sauce, followed by a layer of tortillas, another layer of sauce, and then cheese, and repeat in that fashion until all your ingredients have been added (probably 3-4 layers). Finish with a layer of sauce and cheese. Turn your crockpot on low heat, cover, and allow to cook for 5-6 hours. Serve with a dollop of sour cream!