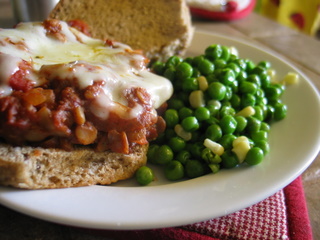 It's been one of those seasons when learning to use the crockpot has come in quite handy! It is so nice to be able to get dinner prepared while you have a little more energy in the morning, if you know what I mean? I have been adapting some of my favorite winter meals for the crockpot and wanted to share with you my variation to Sloppy Lentils. It is actually way easier to prepare this in the crockpot actually! Just throw all the ingredients in and let it go! This is a easy, frugal, and nutritious meal that we love. I have actually simplified the original recipe a bit as well. For the original recipe, visit here. It's recipes like this that make eating whole foods on a budget possible!

2 cups water (the original recipe uses 3 cups, so notice the change for crockpot preparation!)
1 cup brown lentils, rinsed
salt to taste (optional)
1 cup chopped onion
15 oz can diced tomatoes (drained), tomato sauce or 2 cups fresh tomatoes, chopped
1 (6 oz) can tomato paste, optional (as needed to thicken – especially if using tomato sauce)
2 cloves garlic, minced
1/2 cup ketchup
1 teaspoon mustard powder
1 tablespoon chili powder
3 tablespoons rapadura, molasses, or honey
1 Tbsp white vinegar
salt and ground black pepper to taste
4 hamburger buns, split
cheddar cheese, grated (to top your lentils when serving)
Combine all your ingredients in the crockpot (besides the buns and cheese!). Turn on low and cook for approximately 5 hours, until lentils are tender and the mixture has thickened and absorbed most of the liquids. Serve on open faced hamburger buns and top with melted cheese, as desired.
Want to join me for a nutritious crock pot meals carnival? It would be a great way to pass around meals such as this that make meal preparation a little easier for busy moms! I'd love to hear your thoughts!