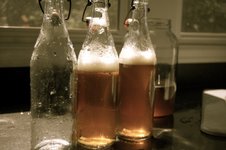 Thanks to my sweet SIL Autumn Edmonds for sharing this wonderful post on Kombucha for us! I just recently completed my first batch of the drink and we thoroughly enjoyed it. It is a wonderfully refreshing drink for summer especially! Pleasantly fizzy and sweet! Fermenting for seven days works great for us. As Autumn mentions at the end there has been some debate over the safety of consuming this product as a pregnant or nursing mother. Her cousin, a nurse, assured us that drinking this beverage in moderation during pregnancy or nursing is perfectly safe. We have mushrooms to share for any of our local friends, just send me an e-mail.

Want to be groove with the hippies, save money and offer a helping hand to your liver? Tired of your drink's main ingredient being high fructose corn syrup? Now you have a healthy and hip alternative, equipped with a great name. Let me introduce you to Kombucha.

Wonderfully fizzy and slightly sweet tasting, Kombucha is a great way to improve your health. The Kombucha culture, often referred to as a "mushroom", is a probiotic colony of friendly yeast and bacteria. It acts on sugar and tea to produce acetic, lactic and glucuronic acid. Kombucha is great for detoxification, boosting metabolism and assisting digestion. It is rich with antioxidants and amino acids, namely L-threonine (supports healthy protein balance). Kombacha is loaded with enzymes and healthy bacteria thought to enhance the digestive process. It has been used to prevent post-meal heartburn, acid reflux and has even been used as a cure for cancer.

Kombucha is very simple and inexpensive. It costs about 50 cents a gallon to make, compared with about $3 for a 16 ounce Kombucha drink at your local health food store. I make mine with black mango tea from Trader Joes. Try to stay away from non-organic teas, they contain fluoride.
Here are the instructions:

Ingredients:
3 quarts filtered water
1 cup white sugar (don't worry, the sugar is to feed the "mushroom" but is necessary!)
4 bags of organic black tea
1/2 cup Kombucha from a previous culture or use 1/2 cup apple cidar vinegar if starting with a new mushroom
1 Kombucha mushroom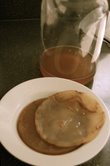 Directions:
1. Bring water to a boil.
2. Add sugar. Dissolve.
3. Remove from heat. Add the tea bags. Let tea steep until the mixture is completely cooled.
4. Remove tea bags. Pour tea mixture into a gallon sized glass jar. Add Kombucha saved from previous batch.
5. Place the Kombucha mushroom on the top of the liquid inside the jar.
6. Cover with a cloth (cloth napkin for example) and put in a warm, dark place for 7-10 days. Inside a kitchen cabinet works great.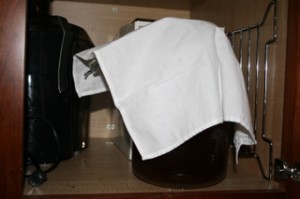 My kombucha covered with cloth napkin in gallon jar in my kitchen cupboard
7. Remove the mushroom. Kombucha mushrooms reproduce with each batch. Gently tear the new mushroom from the mother mushroom. Use the mother for the next batch and either pass on the new mushroom to a friend or dump it down the disposal.
8. Transfer liquid to covered glass containers. Reserve 1/2 cup of the Kombucha for your next batch.
9. Begin your next batch right away or store the mushroom in the 1/2 cup liquid in your fridge.
*Note: Do not wash Kombucha containers in the dishwasher.

Sound good already? Here are a few quotes further describing the wonders of Kombucha.

Sally Fallon describes the Kombucha process well in one of my favorite cookbooks, "Nurishing Traditions." "The kombucha 'mushroom' acts on sugar and tea to produce not only acetic and lactic acid but also small amounts of a potent detoxifying substance, glucuronic acid. Normally this organic acid is produced by the liver in sufficient quantities to neutralize toxins in the body…However, when liver function becomes overloaded, and when the body must deal with a superabundance of toxins form the inviroment-certainly the case with most of us today-additional glucuronic acid taken in the form of kombucha is said to be a powerful aid to the body's natural cleansing process, a boost to the immune system and a proven prophylactic against cancer and other degenerative diseases."

Jennifer Adler from the Conscious Choice website writes;
"Some of those miracle health claims include: detoxification, boosting metabolism, assisting digestion and even curing cancer. Advocates believe that Kombucha works by assisting the liver's ability to detoxify the body. This hypothesis is due to early observations of increased glucuronic acid conjugates in the urine after Kombucha consumption, a signifier of increased detoxification by the liver. However, more recent analysis of Kombucha offers other explanations for its potential health benefits. First, Kombucha's high levels of organic acids help maintain proper acid/alkaline balance in the body by promoting tissue and blood alkalinity. The fermented brew is also rich in antioxidants and amino acids, namely L-threonine, which supports healthy protein balance. In addition to its potential properties as a liver-booster, Kombucha is loaded with enzymes and healthy bacteria thought to enhance the digestive process. Kombuchanados swear by the drink as a preventative for post-meal heartburn and acid reflux. Some rely on the fizzy bite of Kombucha as an energy boost to battle the dreaded mid-afternoon slump (the tea's copious quantities of B-vitamins make it a great caffeine-free alternative)."

So instead of picking up an expensive and sugar ladened soft drink from your local grocery store, buy a kombucha mushroom and create your own delightful, healthy and refreshing Kombucha drink.

To buy your own mushroom:
Organic Kombucha
Check out your local craigslist!

For further reading:
Kombucha for Children
Kombucha Tea FAQs – a great resource for all your questions! Refer to this first!
Kombucha Cultures
Conscious Choice
Kombucha America
Happy Herbalist

** Word of Caution **
Some individuals may have an alergic reaction to Kombucha. Also, some say Kombucha is not advisable for pregnant or nursing mothers due to it's detoxing effect.
If you are concerned with caffeine with pregnancy or nursing, try this decaffeinating tip I learned:
Basically you pre-steep the tea.  Heat up a cup of hot water and set it off to the side.  Before putting the tea bag/ball in the water to make kombucha, first let the tea steep in the cup of hot water for 45 seconds to 1 minute.  Supposedly the caffeine is released into the water during that first minute.  After that put the tea bag/ball in the water to make kombucha.  It's essentially a do-it-yourself decaf of the tea.

It's Kitchen Tip Tuesdays!