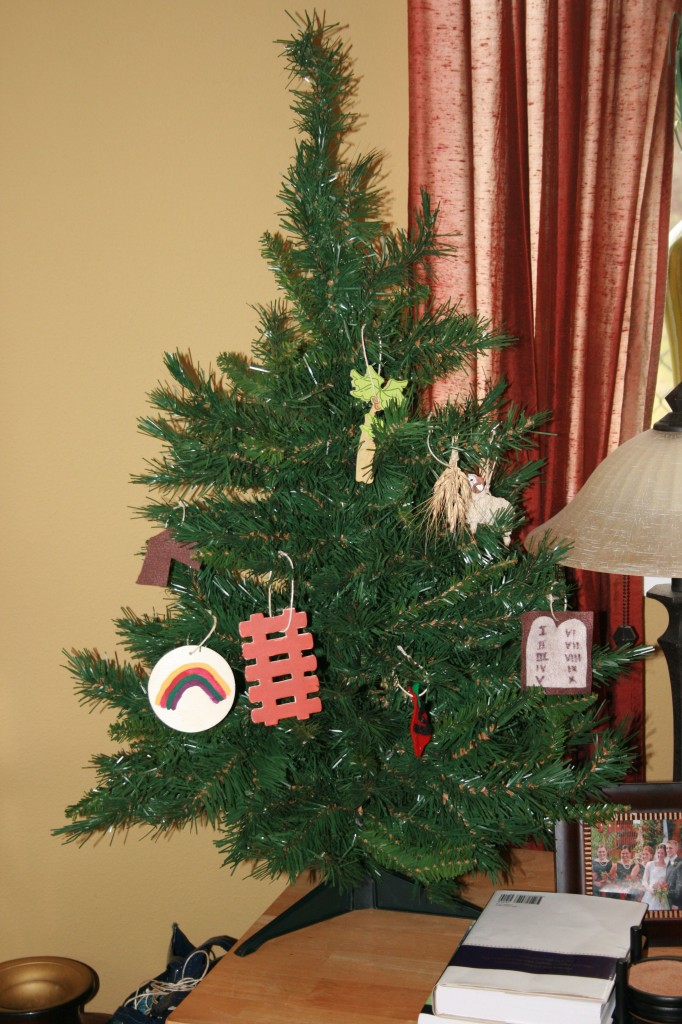 Last year, I was introduced to the idea of a Jesse Tree as a purposeful way to celebrate the true meaning of Christmas and our family loves it!
The name "Jesse Tree" comes from Isaiah 11:1-2: A shoot will come up from the stump of Jesse; from his roots a Branch will bear fruit. The Spirit of the LORD will rest on him— the Spirit of wisdom and of understanding, the Spirit of counsel and of power, the Spirit of knowledge and of the fear of the LORD."

The Jesse Tree idea centers around Jesus as the fulfillment of this prophesy being the "stump of Jesse". I had a blast beginning to assemble my own homemade ornaments to add to our tree throughout the Advent season. Each ornament represents a different story, starting at the beginning of Creation and working all the way to the coming of Christ Jesus. Each reading shows how all the Old Testament points towards the coming of Christ as the Messiah. The Jesse Tree gives such a beautiful picture into seeing how each story of the Bible speaks about God. Each story is a little whisper of His name and a glimpse into character, plan and purpose. The Jesse Tree is a form of Advent, in which you read one story each day from November 30-December 25. It is a fun and purposeful opportunity to sit down as a family and read more about His coming, but also have a visual representation throug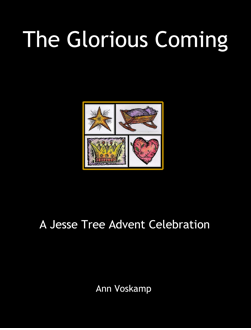 h each ornament.
We used the The Glorious Coming: A Jesse Tree Advent Celebration by Ann Voskamp. It includes all the daily reading plus paper ornaments that you can print and cut out for your tree. Ann's readings are excellent and very thought provoking and suitable for all age levels. Discussion questions included. She recently updated to include black and white versions of the paper ornaments so you have the option of decorating them yourself and larger editions that can be used as coloring pages for the kids while you are reading the Advent devotions. I wanted to make my own ornaments, so we assembled our own ornaments and will be gradually adding a few more each year until we have a complete collection. I did not want to attempt to put it all together at once. 26 ornaments takes time. Why rush? Making your own is a fun way to include your children in the process. It can be very frugal, as most of our ornaments are simply made with felt and twine. I purchased a little 2 foot tree at my local Goodwill for $5 for which to hang our ornaments. But, the ideas here are endless!
I have included below the pictures of our current collection, in no particular order…
The Crown – this ornament represents King David. I found this wooden design at Joann Fabrics and drilled a small hole in the top from which to hang the twine.
Scepter - this is made of red felt using the outline of a scepter image.
Lion - Another wooden design I found at Joann Fabrics. Daniel & the Lions Den is not included in the Ann Voskamp's Jesse Tree edition, but we added it for our own enjoyment as it is in many other Jesse Tree readings.
Heart- I painted a wooden design with red wood paint.
Dove - I found an image online that I cut out and traced onto blue felt for this ornament.
Wolf & Lamb – this is one I am not too proud of.

This is the image provided in the Jesse Tree book that I glued to felt. I painted the wolf, very poorly, as you can see.
Rahab's Cord – A thin strip of red felt bunched together.
Jonah's Whale -obviously a dolphin, but it get's the point across.

Sandles representing the Journey to Bethlehem - another wooden design that I found at Joann Fabrics.
Nativity - representing the birth of Jesus. This was a plain unpainted ornament I found at Joann's. I used wood paint to decorate.
Wheat – This is dried wheat that I cut into a small bushel to remind us of Ruth.
Ram – this is a little toy ram I found.
Jesse's Tree – yes, its a palm tree, but again, it gets the point across. Jesse's tree is used to represent the lineage of Jesus.
The Ten Commandments – I used two pieces of felt and a permanent black marker to make this one.
Apple - This is supposed to represent the fall and the forbidden fruit made from felt. Obviously, I need to work on my snake making skills.
Abram's Tent – made from brown felt. Looks more like pants.
The Rainbow – representing Noah's Ark and the Flood. I painted this rainbow on a small circle of wood.
Jacob's Ladder – this was a little wooden fence I found at Joann's. I just cut off the sides a bit to make it look like a ladder and painted it.
Water – I purchased this ornament this year to represent John the Baptist.
In addition, this year I am going to add a earth globe to represent creation (still trying to find something, but this ornament looks awesome, but spendy!) I also am making a hammer ornament out of brown & gray felt using this image for Joseph the carpenter, and a robe of many colors for Joseph out of colorful fabric. That will bring us up to having 23 of the 26 ornaments used for the Jesse Tree.
Jesse Tree has made our holiday celebrations so much more purposeful and meaningful to our whole family. I highly encourage you to join with us in using this tool this year! If you choose to make your own, I can assure you that you don't have to get them all made before November 30. I made most of my ornaments as we went along last year. They make fun crafts to make during the Advent season.
Other Ornament Ideas & Resources:
3D Jesse Tree Ornament Kit – buy a set of ornaments, color and enjoy!
Jesse Tree Kit – another nice set of ornaments
Jesse Tree Pattern – print out and color your own set of ornaments with this free download or use it to get ideas for your own.
Jesse Tree: A Family Oriented Way to Focus on the True Meaning of Christmas - Simple Mom shares an accumulation of different ideas for making your Jesse Tree.
All About Our Jesse Tree- Shannon @ Rocks in My Dryer shares images of her homemade Jesse Tree Ornaments. I found a lot of inspiration from her designs!
Republished from November 18, 2009