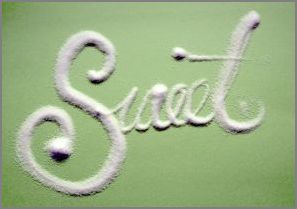 What would life be like without a little sugar to make the medicine go down? Okay, I admit. I have a sweet tooth! I have greatly enjoyed exploring the world of natural sweeteners to replace the abundant processed and bleached sugar that is in most recipes and kitchens. Did you know that the average American consumes around 175 pounds of sugar per year (that's 46 teaspoons a day)? If you evaluate food labels more closely you will be surprised to see Corn Syrup or High Fructose Corn Syrup in practically every item.
This website informed me that: Eating sugar depletes B vitamins (which leads to premenstrual symptoms and depression, my sisters), promotes Candida albicans, bone loss and tooth decay*. Then of course there is obesity, diabetes and heart disease since sugar raises blood sugar, triglycerides, and cholesterol.
Did you know that certain natural sweeteners actually have nutrients and minerals that are good for you? Keeping in mind that all things in moderation is always wise…
Here are some of my favorites and how to use them from my house to yours!
Xylitol
Pure xylitol is a white crystalline substance that looks and tastes like sugar. It is a naturally occurring 5-carbon sugar alcohol found in many fruits and vegetables and produced in small amounts by the human body. It has the same sweetness as sugar (sucrose) but with 40% fewer calories and none of the negative tooth decay or insulin release effects of sugar. Xylitol also has a low glycemic index (7) and has little effect on blood sugar levels. This is definitely the best sugar option. Can be used in a 1:1 ratio for all your baking substitution.
Coconut Palm Sugar
Coconut palm sugar: comes from the nectar of the coconut palm tree. Low on the glycemic index, meaning it won't jack your blood sugar and shouldn't lead to sugar cravings. It's nutrient-rich and unrefined (no chemicals used in the extraction process). Coconut palm sugar is the nectar acquired from the flowers growing high on coconut trees. The nectar is air-dried to form a crystalline sugar that's naturally rich in potassium, zinc, iron, and vitamins B1, B2, B3 and B6.
Honey
Raw honey (that which has not been heated over 117 degrees) is loaded with amylases (which help to digest carbs), enzymes that digest carbohydrates and nutrients. Raw honey is our favorite for topping tea, oatmeal (helps digest the grains), smoothies, salad dressings, and in bread baking (although it is recommended to use it only in items that do not have to be heated). I found a local source recently that makes delicious raw honey and packs in a glass jar – yahoo! For those in the area, this come from Honey House Farms in Battleground, WA. It is also wonderful for dealing with allergies, as in our allergy tonic, and in combination with garlic and lemon tea for the winter colds. Raw Honey is your best natural sweetener due to the way it is naturally formed in nature and goes through no processing. It is definitely different from the commercial varieties as they loss much of their nutritional value through processing.
According to the National Honey Board (NHB), (http://www.honey.com) , 82 percent of households currently use processed honey, which has been heated and pasteurized, and can contain botulism and High Fructose Corn Syrup, (HFCS). Processed honey is not as antibacterial, as raw honey, and is dangerous for diabetics and infants under 12 months old.
For more read here.
Conversion: 1/2 cup honey = 1 cup sugar. Reduce liquid in recipe by 1/4 cup.
Maple Syrup & Sorghum Syrup
I have discussed maple syrup and sorghum in more detail here including their wonderful nutritional value, and after further experimenting have come up with a good recipe for stretching maple syrup (as it is rather expensive currently).
My recipe for stretching maple syrup for pancakes, french toast, and the like is using in combination with sorghum syrup as follows: 1/4 cup maple syrup, 1/8 cup sorghum syrup and 1/4 cup water. Tastes delicious with a hint of gingerbread taste! Sorghum alone can be used in replacement of maple syrup, but it definitely depends on the brand you buy, I have found. Some are stronger than others! Or if you don't have access to sorghum, you can simply add water and that will stretch your maple syrup nicely!
I primarily only use maple syrup for those breakfast meals, but occasionally I will use it to sweeten a white base ice cream (as in my coconut ice cream in combination with stevia). If you can afford it, maple syrup is definitely best bought in organic variety due to formaldehyde and other toxic chemicals.
Conversion: 1/2 to 2/3 cup maple syrup = 1 cup sugar. Reduce liquid in recipe by 1/4 cup.
Sorghum contains B vitamins and minerals like iron, calcium and phosphorus. It is the best replacement of molasses (as molasses is the 'waste' product from the production of refined sugar).
Sorghum is available through Azure Standard for an excellent price although this brand is very strong, and thus my need to make the above combination.
Maple & Sorghum syrup have definitely withstood some processing, thus they are recommended to use in moderation.
Stevia
Stevia is a powerful little sweetener! It has no calories and thus will not spike your blood sugar. A little bit goes a long way – a pinch of stevia powder will sweeten as effectively as a spoonful of sugar. As it does not add bulk, it is best for use in coffee, tea, salad dressings, smoothies, whipped cream, homemade yogurt, and pie crusts. Purchase the whole dried leaves or the whole leaf powder.  Avoid, if possible, the white stevia powder and the stevia liquid drops as they have been highly processed. Stevia ranges in flavor and strength, so we recommend NuStevia offered by NuNaturals.
Rapadura / Sucanat
Rapadura is very rich in dietary iron and is a great substitute for brown sugar due to its dark brown and course texture. It is an organic whole cane sugar that is unrefined, naturally evaporated, and minimally processed in such a manner that it preserves all the vitamins and minerals. You can purchase it through Azure Standard (the best price!) or Tropical Traditions. Use in limited moderation as it will still spike your blood sugar levels.
Please note: Although they aren't as refined and stripped as white sugar, and some are even organic or extracted directly from sugar cane and dried, they still have the same action on the body as regular cane sugar. Organic and unrefined is a plus, but still high on glycemic index, causing blood sugar spikes, insulin surge, and cravings.
The FAQ page at West​on​ A Price states the following:
Q. I'm confused as to which type of sugar is better, Sucanat or Rapadura?
A. Both are fine; both are made by dehydrating cane sugar juice. For a while Sucanat changed the way they made it and were using white sugar, so we stopped recommending the product. But they are now making Sucanat the old fashioned way, so we can recommend it again.
Sucanat is practically the same thing as rapadura in my understanding. They look and taste the same and can be used interchangeably with great success. I have found that sucanat can often be found at a cheaper price and more easily accessible than rapadura, and thus I use it primarily now.
What about Agave Nectar?
Agave Nectar is another sweetener that has been considered a natural alternative. Further research is showing that it is not quite natural after all, due to processing, and boiling down of the syrup and the high levels of fructose. Feel free to explore more on this topic in this excellent post.
What about Raw Sugar or Turbinado?
Raw sugar is not really raw (it is the same thing as turbinado); it is just less refined than white sugar. It does have a small amount of nutrients left in it. It does metabolize the same as white sugar. It is better than white if you are looking for something that is closer to its natural state, but I don't personally use it. I try to avoid the refining process as much as possible. Sucanat/rapadura is unrefined cane sugar. It is processed less than turbinado or raw sugar and a lot less than white sugar. It has more nutrients than turbinado or raw sugar. The natural molasses is still intact, and makes an excellent substitute for brown sugar. It does metabolize slower than white sugar but not enough to make it safe for diabetics. All sugar is recommended to consume in small quantities.
For further excellent reading on these natural sweeteners visit this post on Sugar Substitutes from Local Forage. They provided the conversions listed above.
For further tips on how to begin replacing refined sugars with natural sugars read this post by Weston Price Foundation.
Those are the ones I keep around my house! How about you?
I would love to hear further ideas for use of these sweeteners?