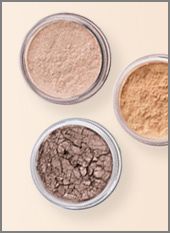 To tell you the truth…I first bought my own complete basic set of makeup last fall for my birthday! Previously, I had a mixed and match set of this and that, without very much knowledge as to how to apply it in the first place. My younger sister, far more knowledgeable in this area than myself (maybe due to her stronger incline to fashion), has taught me most of what I know. With the purchase of my own set, I was simply thrilled!
With my desire to pursue more natural routines in our home, I looked into mineral makeup. Beware that not all mineral makeup is worthy of your use. My research has proved two companies to be readily available:
BareMinerals & Everyday Minerals
I purchased the basic starter set of BareMinerals (as it is sold in many stores) and since have simply loved it! It was a bit spendy for that original purchase ($60), but I still have a significant supply (and its been over 9 months), while applying it probably five times a week! It is so natural looking, matches my skin tones nicely, nothing caked on (like liquid foundation), gentle to your skin, without any harmful chemicals, preservatives, binders or fillers. The set comes with a wonderful CD that shows you how to apply the makeup. That is exactly what I needed! The only downside…it has occasionally caused a bit of burning feel to my skin. Hmm…so I decided to do a bit more research…
EveryDay Minerals offers more shades of foundations and provide free samples (with the cost of shipping) in order for you to find the perfect match. The free kit includes: 3 foundations; 1 blush; and 1 concealer! Even better, you get to choose the shades from a much wider variety than Bare Minerals has to offer. The customer is responsible for paying the shipping fees, which is less than $5.00, but $5.00 for mineral make-up didn't seem like such a bad deal. Their main kits are about half the price of BareMinerals.
The foundation of both products also offers a natural sun protection at SPF15 and still is chemical-free.
Both mineral makeup foundations are made of four ingredients:
Titanium Dioxide
Zinc Oxide
Mica
Iron Oxide
Whereas most other makeup products have an extravagant list of unknown ingredients.
One interesting thing to note: BareMinerals also includes Bismuth Oxychloride.
I read this information from one website: For women with sensitive skin, this is important to note. Bismuth Oxychloride is a by-product of lead mining and can cause skin irritation in some women…Bismuth Oxychloride is also what gives Bare Minerals foundations their characteristic sheen."
Apparently, this product is non-toxic, but does not naturally occur in nature.
Another site provided the following information: "[Bismuth] is a very heavy element…It has to be forced into the pores (hence the buffing technique) otherwise it is capable of sliding off the wearer's face. The heaviness can result in clogged pores or irritated skin…Mineral makeup companies that do not use it have a lighter feeling makeup that usually blends into the skin better and with less effort."
So it does not appear to be toxic, but may cause skin irritation for sensitive users. That may just very well be me! Has anyone tried both brands and compared the two? Reviews definitely point me in the way of Everyday Minerals in the future…if I ever use up my current set.
So my current facial routine includes:
1. Lotion/Moisturizer - coconut oil (a wonderful natural product for your skin! Works for so many things – but just a little dab will do you!)
2. BareMineral Make-up - includes powdered fountain, warmth, mineral veil (finishing powder) and glee (blush). For my skin tone I have the fairly light/light set.
The basic set does not have eye-shadow, but you can purchase those separately. I have one color which I don't use very frequently (as time allows!), but do really like it (it's a shimmery brown). I also have a basic mascara, and use Burt's Bees lip shimmers for lipstick on occasion, which are also very nice and made of quality ingredients. That's about it!
3. Make-up remover - I use a basic soap to wash the makeup off at the end of the day. Currently I use either burt's bees facial shampoo, or Dr. Bronner's liquid castile soaps to clean my skin at the end of the day. Works wonderfully. Mineral makeup is so easy to remove you don't need any expensive special removal product.
That's it! As you may already know, I love simplicity! Another thing I appreciate about BareMinerals is the simplicity of this basic kit – just 4 different products. Sometimes I can just wear the foundation and the warmth, a little mascara, and still look nice (like today for instance – when time does not permit everything). My husband appreciates simplicity too…as I don't take all day in the bathroom (10 minutes max!) and he often could care less whether or not I have make up on in the first place. So rather than having 10 different colors of eye shadow, and piles of facial products, simplify!
Further Resources:
Skin Deep, Cosmetic Safety Data – this site provides a wealth of information on all body products to help you learn which are toxic or non-toxic for your skin. At the same time, it is very confusing to me! I have mixed feelings about the truthfulness of linking everything to cancer. BareMinerals comes out around a 3 (moderate hazard) whereas Everyday Minerals is 1-2 (low hazard) on the toxic score.
Mineral Makeup and Bismuth Oxycholoride

Facial Products, Are Healthy & Frugal Choices Possible? - My friend Kimi, at the Nourishing Gourmet, reviewed Everyday Minerals on her old blog. Check it out!
What natural products do you use on your skin? How do they compare? How could you start simplifying your facial routine?