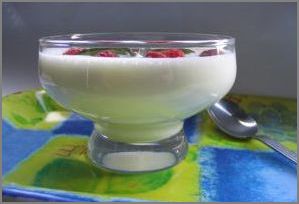 Have you ever tried making homemade yogurt? If not, you are really missing out! Not only is it very easy and delicious, but also a frugal alternative to the store bought brands. There are two different methods I recommend: in a stock pot or in a crock pot!

As I have shared before in my original post on making homemade yogurt, "Of all the cultured dairy products, yogurt is the most versatile. Yogurt assists the intestines in destroying harmful bacteria by producing an acid environment. Yogurt with active cultures may encourage friendly bacteria production in the digestive tract. Milk protein is more quickly and easily digested in yogurt form over liquid sweet milk. The more tart the yogurt, the greater the absorption of calcium. Eating yogurt can relieve both constipation and indigestion."
This past week I made yogurt in a crockpot for the first time and it was a big success and very easy! It took maybe 10 minutes of my time and the rest was just letting it sit there and culture away! I kept breaking my candy thermometers, thus making my original method very difficult to complete. With the crockpot, it's like 1, 2, 3! All's you need is a 1/2 gallon of your milk of choice, 1/2 cup of yogurt starter (plain yogurt from the store or a previous batch), and a crockpot! It works beautifully! Homemade yogurt will not be as thick as store bought but still tasty. Thanks to Nourishing Days for passing on the method. Check it out here!
We love to add a little maple syrup and vanilla extract for a delicious yogurt! Karis loves yogurt and eats it practically every day. Enjoy!
How do you like your yogurt?