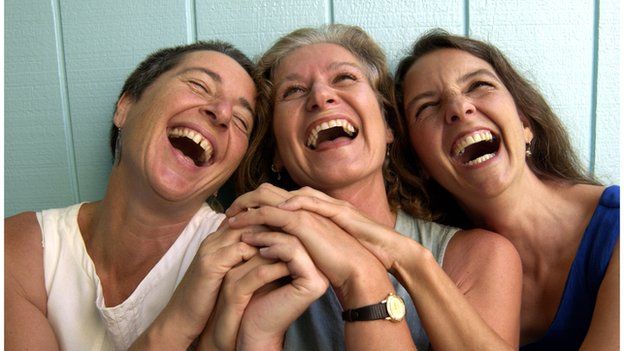 My hormones have been seemingly on strike these past weeks while my baby has been weaning, sleep lacking, my emotions creeping out of control, and my spirit has been tempted to wallow in self-pity, discouragement, and despair. Why is it so easy to loose my joy at the bad attitude of a child, or a seeming unproductive day where nothing was checked off my to-do list, or at the late hours required of my husband to get a business off the ground?
Because I keep forgetting what is true and real (Philippians 4:8), and not loving God with all my mind.
Our God is the author and creator of laughter. He rules in the heavens in perfect control of the future. He controls the striving of the wicked who arrogantly fight for their own glory and success. Psalms 2 reminds us of this truth. The nations are raging war against the Lord, and yet "the One who rules in heaven laughs, the Lord scoffs at them" (Psalms 2:4).
Our God sees and knows all, and yet He laughs.
I am His daughter, created and fashioned in His very image (Genesis 1:27). Laughter is a part of my design! One of the ways I can imitate God is by practicing and walking in a spirit of laughter. Laughter is a distinguishing mark of a strong godly woman.
Proverbs 31:10, 25 describes this woman. "Who can find a virtuous woman? She is more precious than rubies…She is clothed with strength and dignity, and she laughs without fear of the future."
She can laugh, because she is confident that God is fighting for her (Exodus 14:14).
She can laugh, because she has rejected fear, and has cast every care upon the God who desires to carry her burdens (2 Timothy 1:7, 1 Peter 5:7).
She can laugh, because she is confident of God's control over all events and circumstances past, present, and future (Isaiah 14:26-27).
She can laugh, because she is confident of God's everlasting and adoring love for her (Jeremiah 31:3).
She can face tomorrow with a smile, because she knows without doubt that her God and Father will always be working all things together for her good (Romans 8:28).
She can delight, because her future is secure. Her eternal future is being prepared for her. (Psalms 16:5, Psalms 23:6, Jeremiah 29:11, John 14:1-3, Philippians 3:20-21).
She can rejoice, because she will never face condemnation, and can boldly reject every lie, guilty fear, and condemning thought from the enemy (Romans 8:1, 33-34).
She can laugh, because she is assured that her God is always watching over her and His ears are ever attentive to her prayers (Psalms 34:16, Philippians 4:6-7).
She can smile, because she has chosen to turn every wandering or negative thought about herself, her God, or her circumstances and turned them rather towards what is true, real, right, pure and beautiful (Philippians 4:8-9).
She can laugh, because she has been given the gift and privilege of God's peace and she has embraced it (John 14:27).
She can smile at the future, because her hope is anchored in Christ (Hebrews 6:19-20).
"For this is how the holy women who hoped in God used to adorn themselves, by submitting to their own husbands, as Sarah obeyed Abraham, calling him lord. And you are her children, if you do good and do not fear anything that is frightening" (1 Peter 3:5-6).
In a recent sermon, our pastor, Matt Cunningham, shared the following challenge: "A Christian woman is not one who puts her hope in her husband, and she's not one who puts her hope in getting her husband. She is not one who puts her hope in looks, but she's one who puts her hope in the promises of God…[quotes Prov 31:25]..The future doesn't make her fearful. The future doesn't cause her to be afraid. She looks at the future not with anxiety. She looks at the future and she laughs at it. She trusts in God so much, her hope in God is so secure, that she looks at the future, the uncertainty of it, and she laughs at it. Now that is a strong woman! That is a woman who finds her hope and her identity in Jesus Christ alone. She looks away from the troubles and the obstacles of life. She focuses her attention on the sovereign power and love of God. She looks at the one who rules in the heavens and does whatever he pleases. Whose favor is towards her, whose favor is towards her family, and she laughs at the future. How God longs for these kinds of women to be in His church!"
Oh Lord, help this to be true of us, your daughters! May we be known as women of God who laugh at times to come because we are confident in our identity in Christ, and are resting in a firm and unshakeable knowledge of God's control of all things, including each one of our children, every penny and possession, every moment of our future, every circumstance, and every success or failure.
What beautiful women we can and will be by the power of the Holy Spirit! Who knows how it may impact a watching world around us? I believe without a doubt that they will be attracted to Christ as they witness our joy and confidence in the Lord!
That is the kind of strong woman I want to be!
Footnote: One of the resources that has really helped me through this journey of overcoming fear and my identity struggles, teaching me instead to take my thoughts captive to the obedience to Christ, is Elizabeth George's Loving God with All Your Mind. I highly recommend this book along with the study guide to take it to a deeper heart level. It really has been life-changing for me. Really useful book for a one-on-one accountability relationship or small group study.