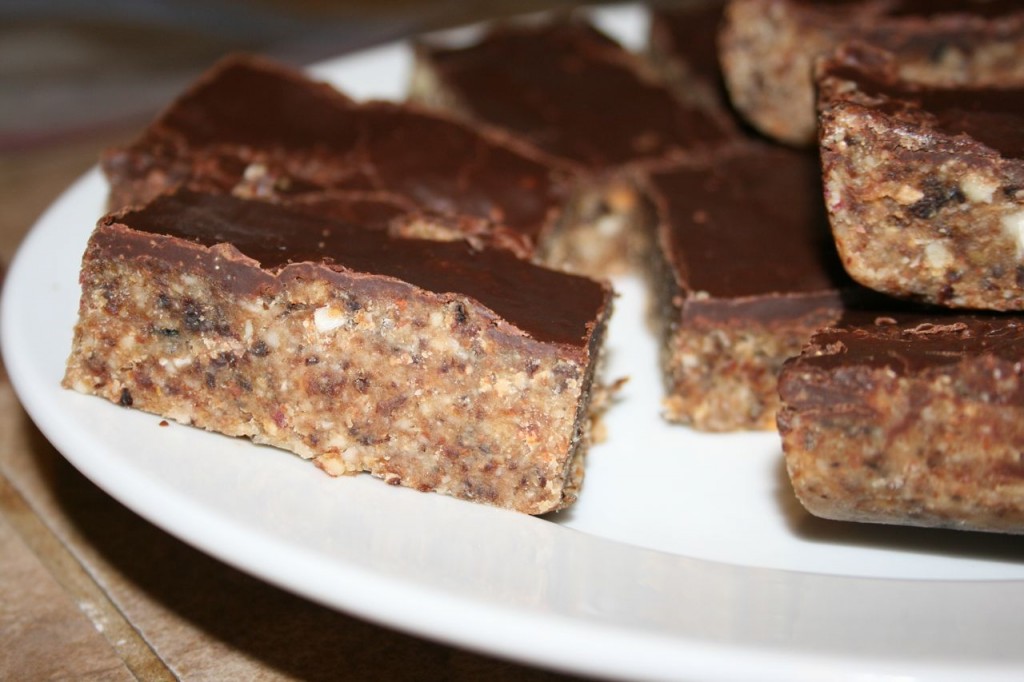 I am thankful for all the input that I received on my recent twitter request for yummy and nutritious larabar and granola bar recipes. Thanks for all the recipes! I wanted to share a collection of the recipes received here today with you all. My purpose in finding a good recipe was to have a good snack bar to have on hand. The hubby in particular was requesting something to give him a little boost occasionally during his long work hours. Here is my version of a good protein bar that we totally love thanks to Katie @ Kitchen Stewardship for her tweaked almond bar! Let me say that again…it is awesome! A great source of protein and a fun way to get those nutritious nuts, seeds and dried fruit into your diet. Great for pregnant mommies too! I simply threw all the ingredients into my Blendtec Blender (my favorite kitchen appliance and functioning food processor at our home) and pulsed it for a few seconds and it turned out beautifully, but you can also use a food processor as described below.
2 cups almonds
1/4 cup flax seeds, chia seeds or pumpkin seeds (ground in a coffee grinder or blender)
1/2 cup dried prunes, dates or raisins (we used prunes!)
½ cup shredded coconut (unsweetened)
½ cup peanut or almond butter
½ cup coconut oil or butter (melted)
1/4 cup honey
2-3 teaspoons vanilla extract
a few squares dark chocolate, less than half a bar needed for thin layer
(optional) – I melted about 1/4 bag of chocolate chips in a small saucepan for the topping
Place almonds, flax meal/seeds, dried fruit, shredded coconut, almond/peanut butter in a food processor. Pulse briefly for about 10 seconds.In a small sauce pan, melt coconut oil over very low heat. Remove coconut oil from stove, stir sweeteners and vanilla into oil. Add coconut oil mixture to food processor and pulse until ingredients form a coarse paste. Press mixture into an 8 x 8 glass baking dish. Chill in refrigerator for 1 hour, until mixture hardens. In a small saucepan, melt chocolate over very low heat, stirring continuously. Spread melted chocolate over bars; return to refrigerator for 30 minutes, until chocolate hardens. Remove from refrigerator, cut into bars and serve. Makes about 12-15 bars. Store in refrigerator or freeze for later enjoyment!
Other Snack Bar Recipes
Granola Bars – (Danielle @ Naturally Knocked Up)
Larabar Recipe – (Clean Eating Online)
Granola Bars (Katie @ Kitchen Stewardship)