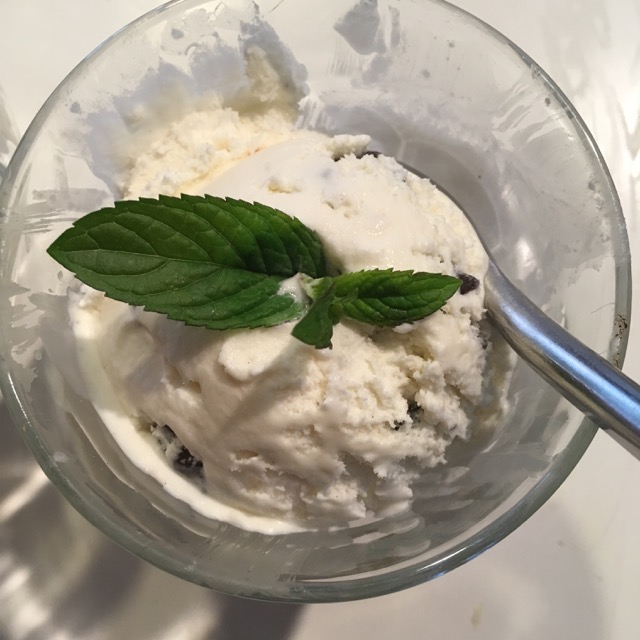 One of my favorite family fun activities every summer is making homemade ice cream! I absolutely love my Cuisinart ice cream maker for its functionality and simplicity. Its a wonderful investment for blessing your family with yummy healthy treats. Keep an eye on the price…it fluctuates all the time. Homemade ice cream is a breeze to make and yummy! You can use various milk options due to your preferences, and can adapt your sweeteners as well. I use almond milk and xylitol because it is sugar free and on the Trim Healthy Mama plan that I follow loosely. It doesn't spike your blood sugar, and easily adapts to all recipes because it is a 1:1 ratio, so its a great option if you want to go a bit more healthy.

This recipe is considered low-carb on the THM plan (if you use sugar free chocolate chips). I prepared this mint chocolate chip recipe for my husband as his request for our Father's Day dessert. We were all delighted with the results! It was fabulous!
Ingredients:
3 cups heavy whipping cream
1 cup unsweetened almond milk (or milk option of your choice)
1 cup xylitol (or sweetener of your choice – white sugar, rapadura, honey, etc – I buy xylitol through Azure Standard, but it is also available through Amazon)
1 teaspoon vanilla extract
1 teaspoon peppermint extract
1 cup chocolate chips (I used Trader Joe's semi-sweet chocolate chunks, but Lily's chocolate chips are a true sugar free option for the purist)
Directions:
Combine all ingredients, except chocolate chips, together in a blender. Pour into your ice cream maker and allow to combine according to manufacturer recommendations (I do 30-45 minutes). Add chocolate chips in the final 10 minutes. Transfer to a freezer container and place in freezer till firm. Enjoy!
Check out our recipe index for more ice cream recipes!