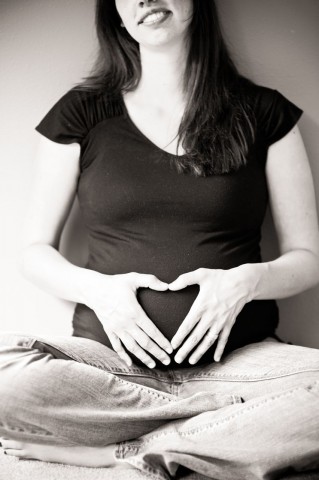 Originally published on July 18, 2011. Republished in light of our top 10 celebration on PH!
With each new little one that the Lord chose to bless us with, there is a certain amount of preparation and pruning that my heart must go through before being in a place to welcome them with open hands. I honestly go through serious withdraws as the last few weeks of pregnancy linger over me. Thoughts such as, "What am I doing? Am I ready for this? Number 3? Ahh!" Can I honestly be the godly joy-filled mother that I desire to be? Can I embrace this child with a heart of love and gratitude? How can I turn my eyes from the reality of the work ahead of me and truly embrace the change?
Take a Retreat.
I have found taking a personal retreat prior to having a new little one to be an invaluable exercise towards preparing my heart for this new stage in my journey of motherhood. Get away, spend time with the Lord, read His word, and pray. Pray for grace. I must acknowledge that this task is certainly beyond my ability. I cannot be a good mother on my own strength. I will stumble and fall…time and time again. I need to let go find grace in His arms.
Meditate on the Blessing of Children.
Jesus loved children. He welcomed them. He embraced them. (Matthew 18:2-6; Mark 9:37; Matthew 19:13-15). He promised in His word that they are a blessing, a heritage, a reward. They are His generous legacy chosen to be passed down through us. Children are a weapon – a tool entrusted into our hands to be prepared to wage war in the enemies camp. With the influence and power of God's gift of children, no one can stand against us! (Psalms 127:3; Deut. 28:4).
Embrace the Change.
I believe it is important to realize and acknowledge that motherhood is hard work. It is work. And yet it is beautiful work. When God designed work back in the Garden, He designed that it was good. Work is a good thing. I like how Timothy Keller defines work as the art of bringing together the raw materials and forming it into something that flourishes, something that brings life to those around you. I love that! So for me as a mother, my work is the art of bringing together the raw materials in my home, food, children's hearts and character, their body's, and working them carefully, nuturingly, beautifully, so that my children, my husband, our home, and those God sends into our lives might truly flourish.
I need to embrace the fact that God's grace is sufficient for the change, the tireless nights, the repeated needs and demands around me. His grace is mine! It has been fashioned for me before time began. It's new every morning. The process of mothering is a sanctifying work. Change stretches and grows us drawing us nearer to our Lord. God is working in and through to for His good pleasure. And He promises to never leave or forsake you.
So recognize that it will be work, chose to embrace it, and the Lord will cause you to flourish. This is my work. Remember that this work is your worship.
Make a Thankfulness List.
Why not make a list of simple truths and reminders that you could post near your bed as gentle reminders for those late night feedings. They could be verses that relate specifically to you or to your baby. You are beautiful (I am fearfully and wonderfully made). You are loved! (You are loved with an everlasting love).
Passing on the Torch.
Recognize the high calling and mission you are about to embark on.
Psalms 78:1-7 gives us this commission:
O my people, hear my teaching;
listen to the words of my mouth.…
We will not hide them from their children;
we will tell the next generation
the praiseworthy deeds of the Lord,
his power, and the wonders he has done...
which he commanded our forefathers
to teach their children,
so the next generation would know them,
even the children yet to be born,
and they in turn would tell their children.
Then they would put their trust in God
and would not forget his deeds
but would keep his commands.
That is a beautiful calling!
Read a good book.
Before each birth, I try to read a good inspiring read about the calling of motherhood. Currently, I am reading A Mother's Heart by Jean Fleming, and it has been so refreshing to my soul. If you cannot get to a book or desire something in addition to, be refreshed by Rachel Jankovic's articles on Motherhood: Motherhood is a Calling and Motherhood as a Mission Field. Check out my list of favorite reads on motherhood for further recommendations.
Pray for your Baby.
It's never too early to start praying for your baby. Oh, I forget this every day. So today, I am sitting here praying for this new little life in my womb. I am praying for a particular life verse or life hymn that might be a strong reminder for them through the thick and thin of life. We have chosen a life hymn for each of our children in the past and this serves as a gentle reminder to continue to sing these hymns over them. I am also re-printing out this helpful free 31 Days of Prayer for Your Children.
So my heart is in a state of rest in this moment as my soul is prepared for this new little life. I will chose to see the beauty and embrace it wholeheartedly, as this is the work assigned to me! It is a beautiful work and His strengthen is mine for each step of the way.