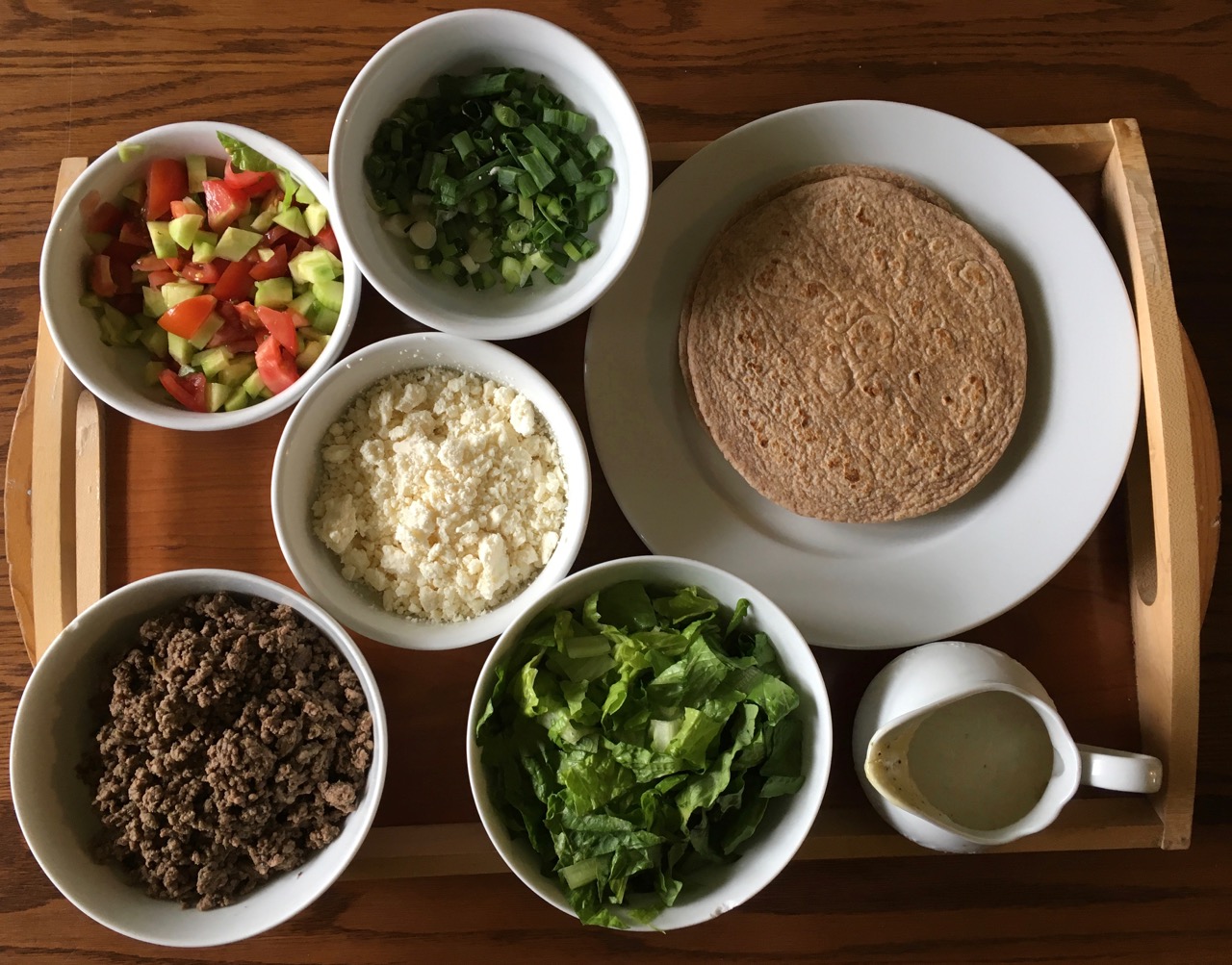 It's been a beautiful spring around here with a few glorious days of summer peeping through the window with warm weather, roses and iris' in bloom, and the craving for summer menu ideas, those quick and easy recipes when I don't want to start sweating in the kitchen cooking over a stove. This adaption to my favorite gyros recipe makes preparation time super quick and simple. I can get this dinner made in 15 minutes! That's my kind of meal.

Not truly authentic gyros, but still super yummy and we all love these! It's a great way to stretch a pound of hamburger, making it pretty frugal too.
SUBSTITUTIONS: If you are gluten free, or following Trim Healthy Mama, layer all the ingredients on a bed of lettuce or a low-carb tortilla instead to make an S meal. I've also used goat's cheese instead of feta.
GYRO MEAT:
1 pound ground beef (preferably grass-fed for highest nutrient value, but I also use Zaycon Fresh ground beef, which are primarily grass-fed)
1 1/2 teaspoons dried oregano
1 teaspoon garlic powder
1 teaspoon onion powder
1 teaspoon sea salt
1/2-1 teaspoon pepper (season to your taste)
TOPPINGS:
1 cucumber, diced
2 tomatoes, diced
5-6 green onions, chopped
Plain feta cheese, crumbled
1 head of romaine lettuce, chopped
1-2 packs of Mediterranean flat bread or pita bread (We love Trader Joe's whole wheat flat bread. At other stores, it is often labeled mediterranean greek flat bread.)
Ranch dressing (this replaces the traditional Tzatziki sauce which is a yogurt/cucumber dressing)
For low-carb or Trim Healthy Mama adaption, serve over a bed of lettuce or a low-carb tortilla!
DIRECTIONS:
1. Cook ground beef in a medium frying pan until no longer pink. Crumble ground beef as it cooks. Drain grease if desired, and then add oregano, garlic powder, onion powder, salt, and pepper.
2. Prepare other toppings, by slicing or dicing as described.
3. Layer seasoned ground beef on each flat bread (or bed of lettuce, low carb tortilla), followed by feta, cucumbers, lettuce, tomatoes, onions, and drizzle ranch dressing over the top. Enjoy!
Serves 5-6 people.