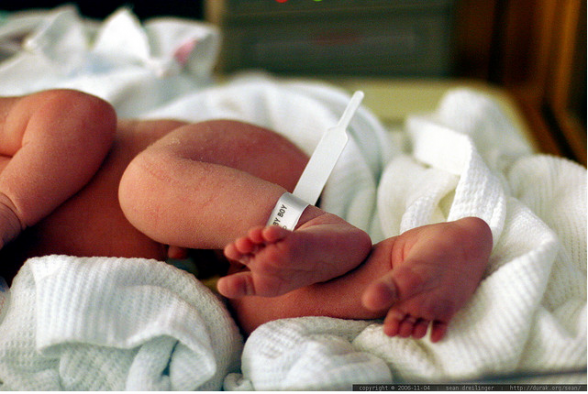 Originally posted on May 18, 2011. Republished as part of our top 10 celebration on PH!
In this day and age, childbearing is often considered a thing to be feared. There is this overarching anxiety that we won't be able to manage the pain of it all. We fear the baby being too large, or too small. We fear losing control. My desire here is to stop this train of thought that birthing is a thing to fear, encourage us to step back, and reflect on the beauty of the birthing process.
Childbirth is certainly work, and the intensity of it has increased as a result of the fall (Genesis 3:16). But like any work, it is doable. God's grace is extended to sustain us through it. What we often overlook is the fact that God created birth to be a beautiful process, as we embrace the work and strive to labor for His glory. He has created the female body to be able to give birth. We were designed to be life-givers. This is what you were created to do! God has specially designed this child, conceived in your womb, to be born into this world.
Please note, there can certainly be a place for interventions as we live in a fallen world and it may not go as naturally as desired, but ultimately if our heart is trusting in the Lord, it will be a beautiful experience,  and should not be a thing to be feared. If you had a rough first experience, may I encourage you that there is grace to cover your past experiences, grace to try again, and grace to trust the sovereignty of God with whatever the results.

Understanding the purpose of pain is essential for being able to conquer fear in our hearts.
Why Pain in Labor?
The quotes below are taken from the Christian Childbirth Handbook by Jennifer Vanderlaan:

Increases Endorphins = pain management

"Pain, by its very nature, is a call to action…Pain has a physiological purpose in childbirth. The increasing intensity of the pain or discomfort increase your body's production of endorphins. Endorphins are natural opiates that are responsible for 'runners high'. They are also produced during sexual intimacy. Endorphins are at peak levels near the end of the labor helping you manage the pain of the contractions."
Increases prolactin = breastfeeding success
"What is even more amazing is the endorphins your body is producing in response to the pain of labor are preparing your body to care for your child. The high endorphin levels cause your body to increase prolactin levels. Prolactin is a hormone necessary to breastfeed."
Pain = movement = proper alignment
"Another important reason for discomfort or pain during labor is the way you naturally move your body in response to pain. It is very difficult to hold still while in pain, which works just perfectly for labor since movement is necessary for your baby to properly align in your pelvis. Without proper alignment, either you or your baby could suffer damage. Pain serves as a method of protection against a bad birth position."
Pain = dependence upon the Lord
God often uses pain as a means of drawing our attention off ourselves and on to Him. It is a beautiful process for a woman to see this pain as a means of helping her refocus her attention on her Savior, who is her provider and source of strength. Therefore, focusing on worship, Scripture and prayer during labor are appropriate responses to the process. I believe this is all a part of the sanctifying process of childbirth. Jesus promises the peace that passes all understanding. This does not mean a perfect pain-free labor, but rather the calmness to embrace God as your strength.
"Peace is letting go of control, and letting God lead you through labor…Only God knows to what extent you will need to work during labor. You may give birth painlessly, or you may struggle through many challenges. You are only in control of how you respond to labor. It is how you handle yourself, where you turn for strength, which is important. God will give you the strength to manage whatever labor suits his purpose."
Tips for Decreasing Pain
Keep your bladder empty.
Stay upright during labor.
Keep moving! Changing positions regularly.
Learn as much about labor as possible. Understand the process and the way your body works.
Chose an birthing environment where you are comfortable, safe, and relaxed.
Chose only people to surround you that you are comfortable with. Don't be afraid to say "no" to all the in-laws.
Learn simple relaxation techniques: visualization, listening to music, relaxing each muscle in your body, deep breathing, and hydrotherapy. Practice these frequently before labor begins.
Keep your vocalization in labor low and deep. When we scream or yell in high pitched tones, this tightens the uterus. When we groan, we allow the cervix to open and relax.
Let go of fear. The more fear you have the more pain you will experience. Don't hide it. Acknowledge it and turn to the Lord to help you with it.
Responding to Fear
It is important to first acknowledge your fear. We all have them. It is naturally a part of being human. But the important thing is to acknowledge and address your specific fears prior to labor. Labor is controlled by your sub-conscious mind, not your conscious mind. Fear in labor produces excess amounts of stress hormones in our body that can lock up your muscles and limit the supply of oxygen to your uterus and baby.
If you are experiencing fear, meditate upon Philippians 4:8 in the following manner (a valuable exercise offered in the Christian Childbirth Handbook):
"Finally, brothers, whatever is true, whatever is noble, whatever is right, whatever is pure, whatever is lovely, whatever is admirable – if anything is excellent or praiseworthy – think about these things."
Write out your fear. My fear or concern is….
Now use the following questions to truly evaluate the source, motivation, and truth about your situation.
What is true? (What is true about you and your situation?)
What is noble? (How can you handle this situation in a noble way?)
What is right? (Is there a righteous response to this fear?)
What is pure? (How can you respond in a way to keep your heart devoted to God?)
What is lovely? (How can this fear be worked for good?)
What is admirable? (Who has overcome a similar fear: how did they do it?)
What is excellent and praiseworthy? (How can you respond in a way that keeps you from sin and brings praise and glory to God?)
Philippians 4:6-7 – "Don't worry about anything; instead, pray about everything. Tell God what you need, and thank him for all he has done. Then you will experience God's peace, which exceeds anything we can understand. His peace will guard your hearts and minds as you live in Christ Jesus." (NLT)
Focus on the Blessings
One of the true blessings of labor is that God designed it to process naturally and slowly (in most cases, as some births do go extremely fast). It actually takes two weeks or longer to go through the process. Contractions gradually increase in duration and intensity rather than all at once. And God gives us total breaks of pain-free times in between contractions. These points of rest, though short, help you to breath, relax, take in fresh oxygen and energy, all of which are essential for you and your baby's health and well being.
Focus on the new precious life that will soon be entering your arms. Focus on the beauty of new life that is being birthed from your womb. Treasure that moment.
When we let go and allow our body to flow with the contractions, we experience a unique empowerment that is hard to describe. When we focus our minds on embracing the pain, the pain somehow becomes less severe. When we get up, move, and allow our body to flow with the contractions, we embrace the design of our bodies.
For further encouragement, please read Spiritual Encouragement for Preparing & Giving Birth that highlights specific verses that are excellent for preparing your heart for labor.