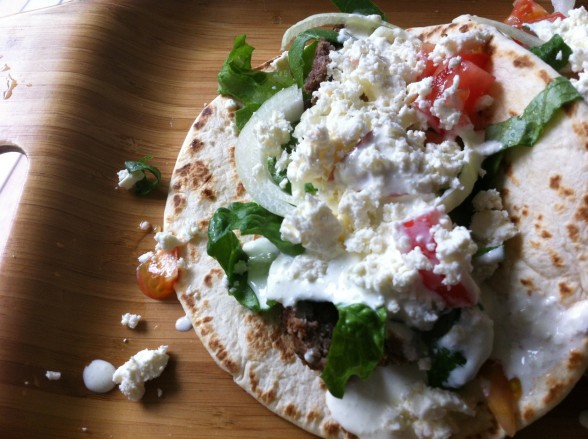 Gyros have been my favorite food of choice when it comes to exploring the various food carts around Portland…since we live in a city that is famous for these small little restaurants on wheels. One of my goals this summer was to prepare our own homemade gyros with quality natural ingredients, and with some experimenting and fun, I have compiled a recipe that is scrumptious and frugal! We all have been enjoying this recipe multiple times over the last month and it is mouth watering yumminess. Dont skimp on the feta!
GYRO PATTIES:
1 pound ground beef (preferably grass fed) - It is also fabulous with thinly sliced sirloin steak or roast marinated (see below), but ground beef it more frugal so a great alternative!
1 1/2 teaspoons dried oregano
1 teaspoon garlic powder
1 teaspoon onion powder
1 teaspoon salt
1 teaspoon pepper
CUCUMBER SAUCE:
1/2 medium cucumber, peeled, cut into chunks
1 cup plain greek yogurt, or sour cream
2 Tablespoons onion
2-3 garlic clove, minced (start with two and add more to your tastes)
1/4 teaspoon sea salt
1/4 cup apple cider vinegar
TOPPINGS:
Feta cheese, crumbled
1 cup Lettuce, shredded
1-2 Tomatoes, chopped
1 small onion, sliced or chopped
4-5 Mediterranean flat or pita bread (I prefer the soft pliable texture of flat bread over pita bread as it makes a huge difference to the taste – It is available at Trader Joes or in the fresh baked goods section at your local store. Often labeled mediterranean greek flat bread.)
Directions:
1. Combine in a bowl the ground beef, oregano, garlic powder, onion powder, salt, and pepper. Shape into 4-5 patties and cook in a skillet until fully cooked. Cut patties into thin slices.
2. To make cucumber sauce: combine cucumber, yogurt/sour cream, garlic, salt, and vinegar in the blender, and pulse until smooth and slightly chunky. (This sauce makes enough for two batches of this recipe, so store the remainder in the fridge until next time! It lasts for a good month).
4. Layer on your pita or flat bread, sliced beef patties, cucumber sauce, feta cheese, onion, tomato, and lettuce. Enjoy!
I recommend that you layer ingredients directly on a flat pita bread rather than trying to open it up. It falls apart too easily if you try to open the pita bread up. Flat bread is my favorite choice as it is more moist than pita bread and more substantial and less likely to fall apart while consuming.
Yield: 4 servings.
Alternative Recipe: If using sirloin steak/roast or lamb steak, marinade in the following blended mixture for best results. A fabulous step up to the recipe!
1/2 onion, cut into chunks
1 garlic clove
3/4 Tablespoon raw honey, xylitol or other natural sweetener (I used honey and it was delicious!)
1 1/2 teaspoon ground mustard
1/4 teaspoon ground ginger
3/4 teaspoon pepper
1/4 cup soy sauce
1 pound sirloin steak, cut into thin strips
Marinade for 1-2 hours before frying in a saute pan, and proceeding with the rest of the recipe above.