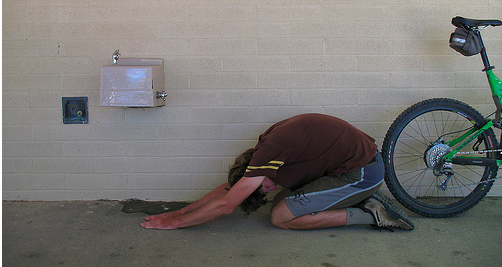 Photo credit
This post is the finale of our TOP 10 CELEBRATION here at Passionate Homemaking. This post received the most general comments over the last 5 years then any other post on the blog, so I thought it fitting to republish this article for you all.
Originally published on January 21, 2010.
Please note: I want to express my heart from the outset of this post to assure my readers that these are musings that the Lord has been working in my heart lately, and I felt compelled to share them with you. I in no way desire to condemn anyone, but my motivation in sharing is to challenge us all to guard our hearts in this matter.
I recently encountered two stories that have challenged me in the motivation and out workings of my pursuit of natural living. The first account began with a friend desiring to throw a baby shower for an expectant mother in her church. This friend was expecting her first little one. The hostess simply wanted to bless and encourage this new mother in her pursuit. When she asked for gift ideas, the new mother stated that she only wanted organic baby clothing, wooden natural toys, organic cloth diapers, and the like. Half of the guests could not afford these products. One lady missed the memo and came with a few plastic toys.
How do you think this made her hostess and guests feel?
The second account took place when I heard a couple share that they had not been tithing for several months and wanted to begin again. They had not been able to afford it. I knew that this family ate all organic and natural foods. This appeared like it could not be sacrificed.
What is more important?
I have had conversations with friends or family members on various occasions when I tried to persuade them of the health consequences or benefits of a certain product. What has resulted? Relationships have been hurt. I have left others feeling condemned or inadequate. Or at a shared meal gathering, when another mom instructs her son not to eat that food item because "it's not food", relationships are damaged because we exalt food over fellowship.
Do I consider myself superior to others because we have adopted a more natural lifestyle?
In the past I have skimped on hospitality because I did not want to spend the money to buy good quality food for my guests or when bringing a meal to another. I made the excuse that I couldn't afford it. In all honesty, I wanted to keep the best of our budget for my family. This is not true generosity. True generosity takes place when I joyfully give the best that I can following the Scriptural command to do unto others as you would have them do to you (Matt. 7:12).
Where is my heart?
The apostle John's last words in 1 John are, "Dear children, keep away from anything that might take God's place in your hearts (1 John 5:21)." These last words are significant…He wants them to be remembered.
How often do I turn a good thing into a god thing?
As Tim Keller states in Counterfeit Gods, "Most people know you can make a god out of money. Most people know you can make a god out of sex. However, anything in life can serve as an idol, a God-alternative, a counterfeit god…What is an idol? It is anything more important to you than God, anything that absorbs your heart and imagination more than God, anything you seek to give you what only God can give."
Natural living can become an idol when we willingly give our emotional and financial resources to achieve it.
Natural living can become an idol when we think that it can give us significance, security, safety and fulfillment.
Natural living can become an idol when we hoard the benefits and not freely offer it to others.
What is my motivation for eating healthy and living naturally? Because I have desired to be a good steward of creation and for the health and wholeness of our family.
Can preserving the safety of my family become an idol in my life? Yes!
When I give my money first towards the purchase of good healthy food prior to giving it back to the Lord in my worship of tithe, natural living has gone too far. When I am more concerned about the safety of my family to the extent that I sacrifice relationships, the service of my brothers and sisters, than natural living has become an idol.
Eating healthy will not guarantee my family a more peaceful longer life. It will not add a single day to my life than God has already determined. Only God knows the number of my days. (Psalms 139:16) He calls me to be faithful to care for my physical body, and this includes being wise in what I put into my body, knowing that it will affect my ability to serve the Lord; but when I raise that to a god-level, it is no longer a good thing. My security must only be found in Christ. He controls my family's health and wellness.
Eating healthy and living naturally does not make me any more honorable in God's eyes than any other. We are all in equal standing before Him.
Our first fruit of income should always go to tithe and not food. (Lev. 23:10; Numbers 28:26). Where your money is, there your heart will be also. (Matt. 6:19-21) If I put more money towards my health and wholeness before God and giving unto others, than that is where my treasure lies. It will burn up at the end.
Unity in the body is more important than the safety of our family. (Rom. 14:1-3; Psalms 133)
God calls me to be generous, not to hoard the good stuff for myself. Am I only concerned about my health and not the well-being of my friends, family, and fellow brothers and sisters in Christ? God loves a cheerful giver. I am challenged to serve the best to my guests as I possibly can. The more you give the less hold it has on your heart. (2 Cor. 8:9)
I have seen and confess to these evidences of idolatry in my heart. Am I implying that organic food, clothing, or wooden toys are bad? In no way. It is a matter of the heart. What is my motivation? Is that a God-glorifying motivation? My challenge to you all…let's not raise being a good steward to a god position. Let's not make others feel guilty, discouraged, or overwhelmed because they cannot afford the natural lifestyle or only in part. It's about relationships. Let's keep God first, love one another, and pursue giving generously to one another as we are able. Jesus commanded in Luke 10:27 states, "Love the Lord your God with all your heart, with all your soul, and with all your mind, and love your neighbor as yourself." I hope you understand my heart in communicating this message. There is no condemnation here. This is just a challenge to go further up and further in in our pursuit of Christ Jesus with me.
"Accept other believers who are weak in faith, and don't argue with them about what they think is right or wrong. For instance, one person believes it's all right to eat anything. But another believer with a sensitive conscience will eat only vegetables. Those who feel free to eat anything must not look down on those who don't. And those who don't eat certain foods must not condemn those who do, for God has accepted them." - Romans 14:1-3