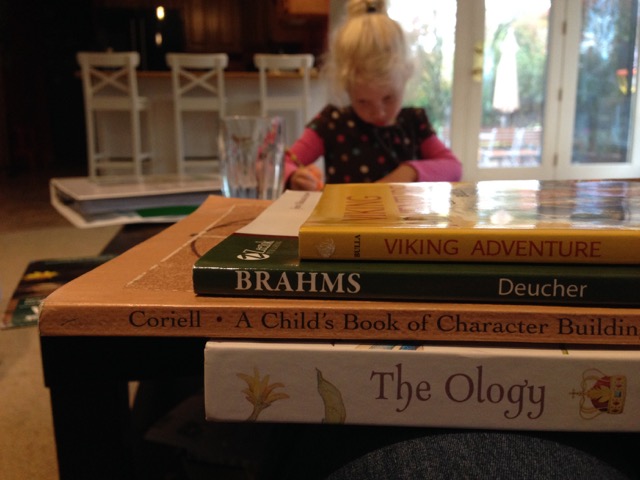 We finished up our school year this week! What a joy it was to celebrate our final day of school with a Medieval feast. We have made a tradition of the last day of school being a celebratory feast where we make dinner loosely themed according to the historic time period we studied for the year. Its become a favorite annual memory. So in celebrating a fun year of studying the Middle Ages, we had a feast of roast chicken, eggs, salad, medieval gingerbread and pudding on trenchers (stale bread that they used as plates) with spoons and our fingers and goblets of grape juice/wine with daddy and mommy serving as the Lord and Lady of our castle! We took the opportunity to speak words of affirmation to the kids specifically addressing the progress we have seen in their lives and hearts this past school year, and then we toasted to their graduation into the next grade.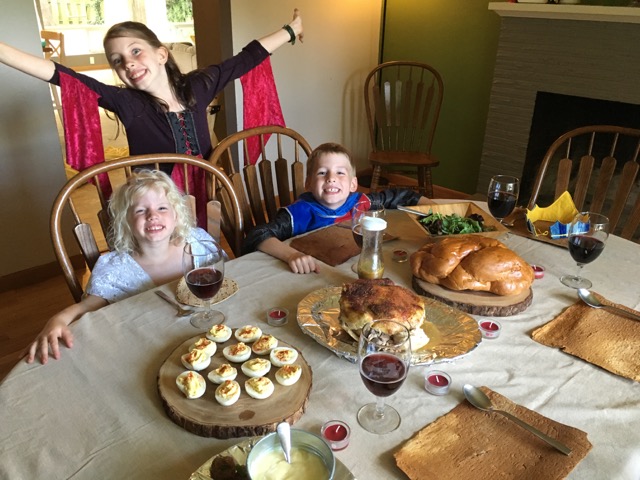 We also visited a local elderly care facility with some fellow homeschool friends and shared various poems and verses the children memorized, along with instrumental pieces they had learned this past year. It was really sweet to love on the elderly while giving the kids a fun means of presenting their hard work in a more formal and yet less intimidating atmosphere. And of course, the elderly just loved interacting with the kids. I hope to make this a regular event – a great way to combine ministry with teaching the kids to speak/present before others.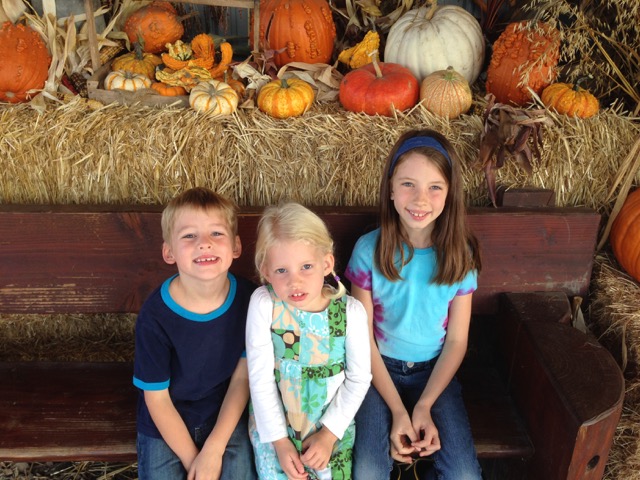 As we finished up the school year, I've been reflecting upon the struggles and successes of this past year,  our fourth year of homeschooling. I'm so thankful for God's grace in giving us a fruitful and enjoyable year. It's so easy to forget all the good because they often get drowned by the difficulties.
Our daily morning circle time, a short time set aside each morning for all of us to sit down together to pray, read living books together, and memorize beautiful things, was a delightful time. We've used this format for a few years now (see Cindy Rollins, Teaching from Rest by Sarah MacKenzie or Your Morning Basket podcast for more details). We were inspired by living books of characters from the Middle Ages. Our eyes were open to the needs of the world, by praying through 40 Days, 40 Bites: A Family Guide to Pray for the World. We were blessed to learn rich theology about God and the world through the beautiful resource, The Ology: Ancient Truths Made New by Marty Machowski. We loved learning character qualities in poems, songs, and stories through the excellent free resources at Character First Education.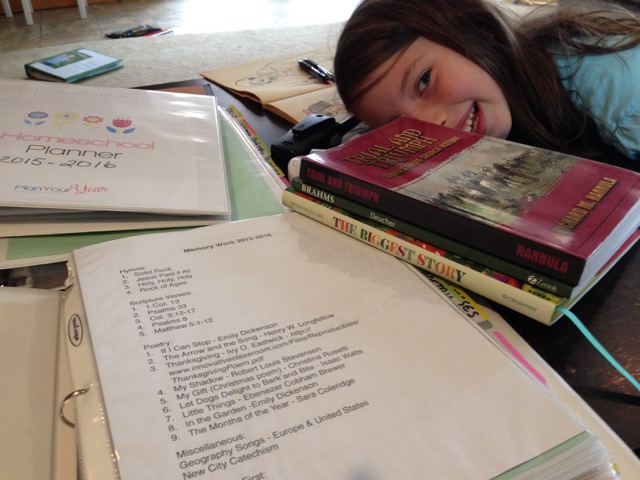 We adopted a weekly poetry tea time into our weekly routine. My kids fell in love with poetry and tea. A fabulous combination. (It all started with listening to this podcast of Julie Bogart on Read Aloud Revival). It was a fun opportunity for my daughter to practice her enthusiasm for decorating. Studying a famous selection of art work pared nicely with our poetry time as well.
We were amazed by the life of artist, Michelangelo, and his unique fascination of the human body, in his towering sculptures of David and Moses. We used the beautiful Art Portfolios by Simply Charlotte Mason. We read about and listened to classical composers, Brahms and Schubert (with the wonderful Opal Wheeler biographies).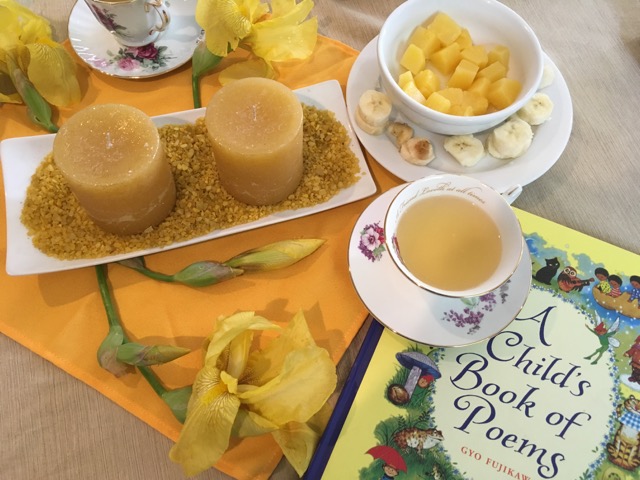 We established a good morning routine where personal devotions, chores, and independent school work (math and handwriting) had to be completed before 9:00am for a little prize (amazing how they can work when you reward them with a jelly bean!), and it became such a great habit and routine. We're maintaining this rhythm year round because it has worked so well.
I am so thankful for the ability to educate our children at home, and that the Lord is always faithful to lead and guide us, even when I feel completely helpless and clueless how to train and disciple them, or how to best meet their needs and various learning styles. He is always near to hear my prayers. And all these successes are simply his merciful answers to those prayers. Homeschooling is truly delightful when I focus on all these sweet memories made together, seeing my children learn to read, hearing their thoughtful comments, and knowing that I get the privilege of learning all of this right at their side.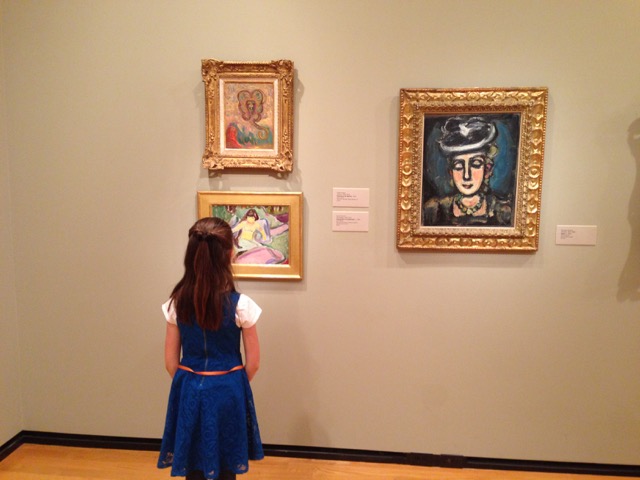 I had many tearful days, struggling with one child's ongoing battle with maintaining a joyful heart in school and chores and prayerfully laying this child before the Lord day in and day out, pleading that the Lord would change both our hearts and give wisdom and grace. There were many frustrating moments of repeatedly reminding of another child to stay focused and be attentive and diligent in their work, and encouraging the other to practice self-control when they are tempted to freak out at the first sign of difficulty or messiness. We have seen great progress in these areas, and God has been mercifully guiding me in ways only He can. I battled against many lies from the enemy that I wasn't doing enough, that I can't do this anymore, that so and so's kids are so much smarter than mine, and on and on. The enemy is a deceiver, and we have to be active in speaking truth to counter his lies. He only wants to make me loose my joy and fruitfulness in the traps of comparison and feelings of failure.
A few lessons I've been learning this year:
1. Eliminate Until There is Peace
You can have a whole list of great books, activities, and amazing outings planned, but if there is no peace, there is no joy, and no lasting learning will take place. Nancy Kelly's simply challenge to "keep cutting back until there is peace in your home" (quoted in this fabulous article), struck a cord in my heart that I won't soon forget. I am an over zealous homeschool planner, so I love to pick the best from multiple different curriculums and make a HUGE book list and lengthy homeschool plan. I want my kids to experience all the best options, right?! But our schedule became a little over packed and over scheduled pretty fast. We had to let go of my unrealistic expectations. Less is more. (Another fabulous resource along these lines is Sarah Mackenzie's Teaching from Rest – I've read it three times already!).

2. Stay Closer to Home
One of the things that was causing unrest in our home was an over scheduling of outside the home extra-curricular activities. I discovered through trial and error, that having to pack up the kids for activities (wonderful educational opportunities, no less!) is super stressful for me in this season of life. It feeds my temptation to burst out in frustration at my kids for the time and effort required, and thus damaging relationships. I also noticed a growing discontentment in the hearts of my children after all these fun activities (feeding expectations for more?). How could I guard against this?
I had to make a deliberate choice to stay closer to home for our well-being and to practice cultivating contentment. We set aside Fridays each week for the necessary grocery shopping trip (twice a month), and a monthly field trip and a monthly service opportunity (visiting elderly neighbors, serving a family in our church, etc), which sometimes fell on a different day of the week and we adjusted accordingly. There is real beauty and rest in just staying close to home. It fosters peace, consistent routines, and contentment.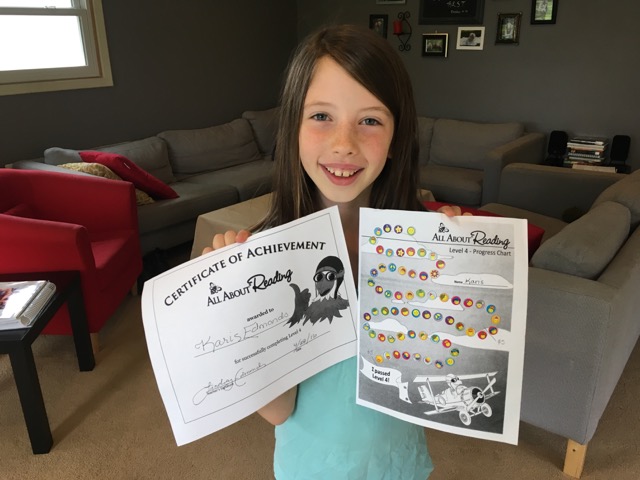 3. Pick Something and Stick With It
It's so easy to pick one curriculum and then throw it out at the first sign of difficulty. But there is sweet reward when we persevere through the challenges and stay committed for the long haul. I am so guilty of this. I have used four different phonics curriculums, two different spelling programs, and four different math programs in the last four years! I've wasted a lot of money before the light bulb finally came on. So thankful for my patient husband. There is no perfect curriculum. Nothing out there is going to be perfectly fun and engaging all the time. I learned that it was time to make prayerful choices and determine to stick with it. There is grace to make changes, but there came a point for me personally that I needed to make a decision and be faithful and persevere. My kids need to learn this mutually. It is so good for our faith and character development.
It's more important to remember that you can adapt the curriculum to your family's needs, but its not necessary to throw it out altogether. You don't have to be a curriculum slave either, thank goodness. It felt so good to see my daughter complete the All About Reading phonics curriculum this year. The fruit of making that necessary commitment. These thoughts have been instrumental in leading us to make the decision of using Heart of Dakota this upcoming school year, adapting to our needs, but then sticking with it for the long haul, Lord willing! I'm honestly really excited and at peace, not to mention all the time I've just freed up from piecing together my own perfect curriculum.

It's been a good year! Do you homeschool? What lessons have you gleaned this year?