I wanted to finish out our series this month on motherhood by sharing a few of my favorite resources on the topic. These are excellent books to help inspire you further!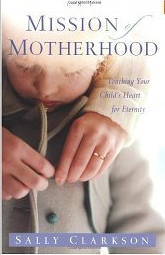 Mission of Motherhood: Touching Your Child's Heart for Eternity by Sally Clarkson – my all time favorite book on motherhood drawing our hearts to the beautiful purpose in it all of loving and guiding their little souls to know Christ. Gives such vision for your role as a woman and mother through Scripture with fresh inspiration for every aspect of life.
Ministry of Motherhood: Following Christ's Example in Reaching the Hearts of Our Children by Sally Clarkson – I love the counsel in this book towards viewing our children as our disciples and learning from Jesus' training methods. Powerful!
The Mom Walk: Keeping in Step with God's Heart for Motherhood by Sally Clarkson – Making sure our hearts are in tune, focused, and in line with the purpose of God. Encouragement for the weary mother.
Don't Make Me Count to Three by Ginger Plowman – Fresh courage and wisdom for disciplining while getting to the heart of the matter peacefully and with joy.
Loving the Little Years: Motherhood in the Trenches by Rachel Jankovic – Are your arms full with the challenges and joys of mothering little ones? Find sweet laughter and honest wisdom from this mother of 5 little ones under 5.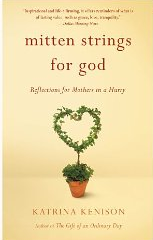 Mitten Strings for God: Reflections for Mothers in a Hurry by Katrina Kenison – A sweet reminder to slow down and enjoy the precious moments of life with lots of creative ideas towards investing fully in a holistic life.
A Mother's Heart: A Look at Values, Vision, and Character of the Christian Mother by Jean Fleming – Encouragement to moms of all ages and backgrounds by showing women how to distinguish between their role and God's role in raising children, explaining how to take a spiritual inventory of a child's life, and discussing how to pray effectively for children.
Every Child Needs a Praying Mom by Fern Nichols – Learn the value and art of praying for your children.
Womanly Dominion: More Than a Gentle and Quiet Spirit by Mark Chan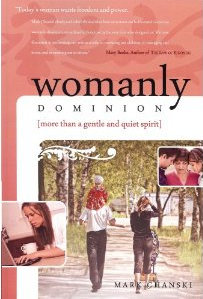 ski – While this book is written about godly womanhood as a whole, it has a powerful chapter on motherhood. If you are seeking to understand God's heart for women, this book is my top pick!
Feminine Appeal by Carolyn Mahaney – Carolyn addresses the various aspects of the Titus 2 woman and includes excellent discussion on women in their role in the home. Beautiful book!
Be strong in the Lord, dear sisters! Your role as mothers is beautiful in God's sight!
For my recommended resources on natural pregnancy and birthing, visit here.
What are your favorite reads on the topic?