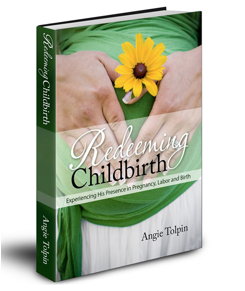 Redeeming Childbirth is a powerful new book by a long time friend and sweet sister in the Lord, Angie Tolpin. I have watched and taken part in this journey that Angie has taken in writing this book over the last year and I am so blessed to see the heart and love that she has poured out into this book. This book is a fresh new call to invite the presence of God into this intimate and beautiful process of childbirth. It is a challenge to let go of the debates, comparisons, and disunity among Christian women on the subject of childbirth how's and where's, and instead, fully embrace the beautiful design that God has for you, and realizing that He is the sustainer, deliverer, and only one that can truly support and carry us through, and ultimately redeem this process of childbirth.
He designed childbirth, its challenges, its pains, its processes, and He calls us to see the beauty and magnitude of how we can display and magnify His glory through every step of the journey. God desires to use it to draw our hearts more deeply into His presence and to prune and refine our character in ways that no other life experience can compare with. This book is full of biblical encouragement in preparing for childbirth and beyond, but also chock full of practical encouragement, from personal testimonies, making the birthing room a place of worship and Scripture meditation, understanding God's true design in pain, dealing with fear, redeeming emergency situations, help for bed-rest situations, and so much more. She offers tons more free downloadable resources through her website, Redeeming Childbirth.
Here are some of my favorite quotes:
"It is not where the baby is born that marks a birth as redeemed. It is the act of surrendering our agendas to The Lord, seeking His will for our childbirth, and then experiencing His presence working in us, through us, and around us that makes it a redemptive milestone in one's life."

"…Once you choose to surrender fully under the headship of Christ, you begin living in the freedom of the grace that Jesus brings. You begin to view pain, not as a burden or a curse, but as beautiful. It is a beautiful pain because of the spiritual, mental, and emotional growth you will experience as you embrace it, in Christ who strengthens you."

"Jesus is our deliverer in birth. He brings forth life. He chooses when that baby will be born; we know not the hour, only He does. He is the one we can choose to transfer our pain to, to let Him take it and carry us."
There is so much hope in this book! I highly recommend it and believe passionately that every pregnant mother, and in fact, every woman of God, young and old, should read this book and begin to change our culture tide from women who only complain of the pains of pregnancy and spreading fear from horrible birth tales into a generation of women that choose instead to invite God in and proclaim how God met and redeemed them in childbirth in such a way that God is mightily glorified! Let us let go of our agendas and instead proclaim the excellencies of God's amazing grace every step of the way. The birth room and our birth stories can be a powerful place and opportunity to be a shining light in a dark world! Who knows what God can do? Let's not put Him into a box.
This book is available on Amazon for just $15, or through kindle for $6. Please order your copy today here.
For further encouragement and resources, check out the Redeeming Childbirth facebook page.
Thanks to Angie, we are giving away one copy today of Redeeming Childbirth to one beautiful woman!
 TO ENTER:
1. Visit Angie's website, Redeeming Childbirth, and check out the vision for this book and the awesome resources she has available for you. Come back and share in a comment below why you would like to read this book.
Giveaway Closed.
AND THE WINNER IS…
Sarah O. (hitchedathenry@….): "I would LOVE to win this book. I am 27 weeks pregnant with our fourth child today. Even after all of these years, I struggle with such fear and feeligs of insecurity about labor and delivery. I have a feeling this book would be a huge encouragement to my heart." 
I pray this book would be a great blessing to you Sarah! Congrats!
No purchase necessary to enter this giveaway.
Limited to US partipants only. 
Email subscribers: You must click through to this original post and leave a comment on the website in order to be entered in this giveaway.