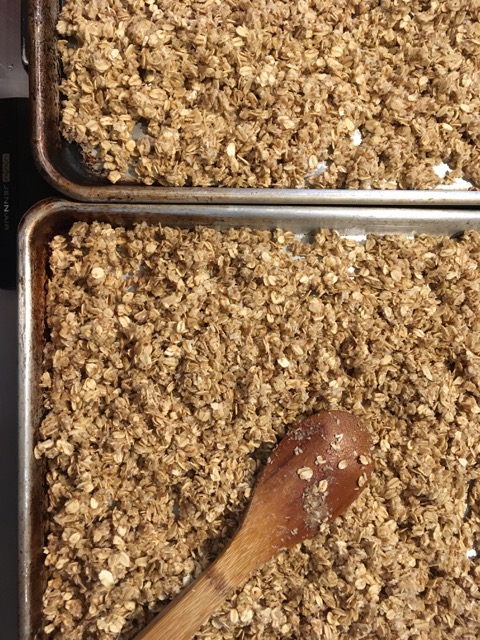 Want a easy and delicious granola that can be eaten any time of the day? This is hearty and healthy and protein packed, to sustain you throughout your day. It is great with milk for breakfast, served with yogurt for a fruit salad bar, and mixed in with raisins and nuts for a crunchy trail mix. It is also my daily bedtime snack!

We love it. It can be sweetened as you prefer, but I love xylitol made from birch trees (rather than from corn as many brands are) because it doesn't spike your blood sugar and tastes so yummy.
Ingredients:
8 cups rolled oats (use gluten-free oats if you are more cautious about gluten contamination)
1 1/2 cup coconut flakes
1 1/2 cup xylitol (or replace with your favorite sweetener – 1 cup raw honey or maple syrup works too!)
4-5 Tbsp vanilla extract
1 cup coconut oil (extra virgin, cold pressed), melted
1 cup egg whites
1 cup raw mixed seeds, ground in coffee grinder (pumpkin seeds, sesame seeds, chia seeds/flax seeds, and or sunflower seeds – I usually do a 1/4 cup of each)
2 teaspoons sea salt
Directions:
Combine all ingredients together in a large bowl until thoroughly mixed. Spread out evenly over two large 12×17 baking sheets. Bake at the lowest temperature you can set your oven to (150-175 degrees) for 1-2 hours, till just lightly browned. Rotate the pans at least once while baking, and mix up the granola on the tray a couple times throughout the baking time to get it evenly toasted. It will still be soft when you remove from the oven, but will harden as it cools. Makes about 1 gallon.