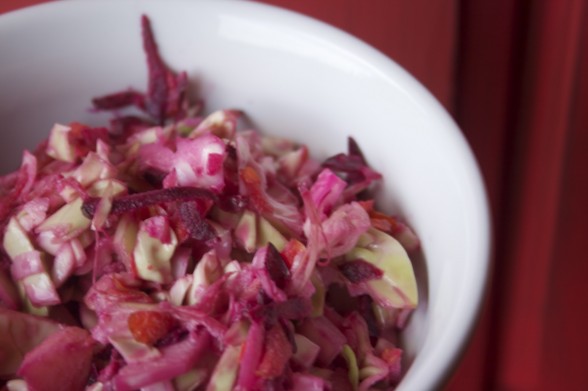 Delicious fresh in-season produce is widely available at the market right now and I have been exploring making a variety of new salads and dishes to consume them all. Coleslaw has been one of those long detested side dishes until I started making it at home. Homemade slaw can come in a variety of different flavors and ingredients, and this fun new experiment made a delicious salad that we enjoyed over several days time (since it is a large batch!). It is pleasantly sweet and full of rich nutrients and vitamins from the wide variety of vegetables combined in this slaw. And it's a fun color, thanks to the inclusion of beets. If you prefer to avoid the pink color, eliminate the beets and you will still have a colorful slaw with orange, red, and green colors. If you have a food processor, it would help in whipping this up in a flash. This is a refreshing salad for a warm summer day!
5 cups green cabbage, shredded or grated
2 large carrots, shredded or grated
2 apples, chopped
1/2 cup red onion or 3 green onions, chopped
2 celery sticks, chopped
2 beets, shredded or grated
1 cup mayonnaise (we used our homemade mayo and it is delish and so much more healthy and frugal than store bought varieties)
1/4 – 1/3 cup raw honey (to your taste)
2 Tbsp apple cider vinegar (preferably raw with the mother)
1 teaspoon sea salt
1/4 teaspoon pepper
Directions:
1. Combine all the shredded and chopped vegetables and fruit in a large bowl. 
2. Whisk together the mayonnaise, honey, vinegar, salt and pepper. Toss over the vegetables and fruit and combine till well mixed.
Yield: 8-10 servings.