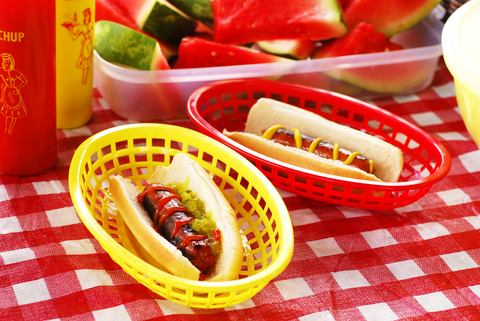 Guest post by Kresha Faber at Nourishing Joy
Summertime has arrived and with it comes outdoor meals. It is such a blessing to gather with friends and family on a warm summer evening to linger over good food and drink and be nourished by each others' company!
Now, I don't know about you, but in my family, these gatherings are standard grill fare only: hot dogs and hamburgers with all the fixin's. But the "fixin's" tend to be rather expensive to keep in stock for our large extended family and I prefer to feed my kiddos whole, natural foods whenever possible, so I started tinkering with recipes to create homemade versions of all our staples that actually taste like the store-bought alternatives.
Thus, today, I offer our take on four of the classics: ketchup, mustard, mayonnaise, and sweet pickle relish.
(As a side note, I had so much fun developing these recipes that I ended up writing an entire cookbook about condiments, which is due out sometime this month. Stay tuned at NourishingJoy.com for details!)
Easy Peasy Ketchup
Makes approximately 3 cups
1 1/2 cups tomato paste
3/4 cup raw honey
1/2 teaspoon blackstrap molasses (optional)
½ cup water
½ teaspoon onion powder
1 clove of garlic, finely grated
1 cup apple cider vinegar
1 1/2 tsp unrefined sea salt (more to taste)
Place all ingredients in a large saucepan and stir together with a whisk until smooth. Heat over medium heat and bring to a boil, then reduce to medium-low and simmer for 20 minutes, stirring often.
Remove the pan from the heat and let cool. You may certainly serve the ketchup immediately, but the flavor improves after 2-3 days.
French's-Style Mustard
Makes 1/2 cup
1/2 cup dry mustard powder
1/2 cup water
1/3 cup white distilled vinegar
1/2 teaspoon sea salt
1/2 teaspoon ground turmeric
1/2 clove of garlic, finely grated
1 pinch smoked paprika
1 teaspoon cornstarch or arrowroot powder
Whisk everything except the cornstarch together in a small saucepan until smooth. Place over medium heat and bring to a boil, then reduce heat and simmer for 5-10 minutes, stirring often.
About 1 minute before you want to remove the mustard from the heat, stir the cornstarch together with 1 teaspoon of cold water. Then, while whisking, pour the cornstarch into the simmering mustard. Let cook for 1 minute to thicken.
Remove from heat and let stand 1 minute to set. Pour into the serving container to cool. The mustard may definitely be served immediately, but the flavor will mellow after 3-4 days.
Everyday Mayonnaise
Makes approximately 1 ½ cups
The combination of olive, coconut, and sesame may sound strange, but the three blend unexpectedly well. This mayonnaise is scrumptious on burgers and sandwiches, although I prefer a blander mayo for making salad dressings and dips.
2 egg yolks
3 tablespoons lemon juice or white wine vinegar
½ teaspoon sea salt
½ teaspoon Dijon-style mustard (optional)
2/3 cup olive oil or sunflower oil
1/4 cup coconut oil
2 tablespoons toasted sesame oil
Combine your oils in a measuring cup with a spout or in a squeeze bottle. Set aside.
Place the egg yolks, lemon juice, sea salt, and mustard in a food processor or blender and pulse until everything is combined. (Or follow Lindsay's directions for 10-Second Mayonnaise.) Then, with the motor running, pour in the oils as slowly as possible, preferably taking 3-4 minutes to add the entire cup of oil.
Sweet Pickle Relish
Makes approximately 1 quart
1 1/4 lbs fresh pickling cucumbers, scrubbed
1 onion
3 tablespoons pickling salt or coarse Kosher salt (do not use regular salt, as the additives will change the color of the relish)
Ice cubes or ice chips
2/3 cup white distilled vinegar
1/2 cup apple cider vinegar
1 cup evaporated cane juice
2 teaspoons mustard seeds
1/3 teaspoon celery seeds
1 inch cinnamon stick
1 pinch ground allspice
1 pinch ground cloves
1/4 teaspoon turmeric
Coarsely chop the cucumbers and onion in a food processor or food grinder and place in a large bowl. Sprinkle in the pickling salt and stir so that the salt is well distributed. Place a tea towel directly on the surface of the cucumber and onions, then cover the towel with ice and let sit for 2-3 hours. Discard the ice and rinse the cucumber and onion mixture thoroughly.
In a large saucepan, bring the vinegar, sugar, and spices to a boil. Reduce heat and simmer for 5-10 minutes until the mixture has reduced slightly, then stir in the cucumber-onion mixture. Stir well, spoon into jars, and let cool. The relish can be served immediately, but it achieves the best flavor after 2-3 days. Store in the refrigerator for 1-2 months.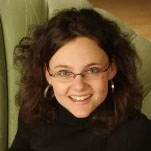 Kresha Faber is the chief writer and blog editor at NourishingJoy.com, a website dedicated to real food, sustainable living, natural homemaking, and joyful parenting. She is the mother of three young children, the wife of an incredibly good man, an opera singer, a cloth diapering instructor, and an avid researcher. She and her husband share a passion for living life thoughtfully and intentionally in response to God's grace in their lives and she loves to share good meals around a very large table.