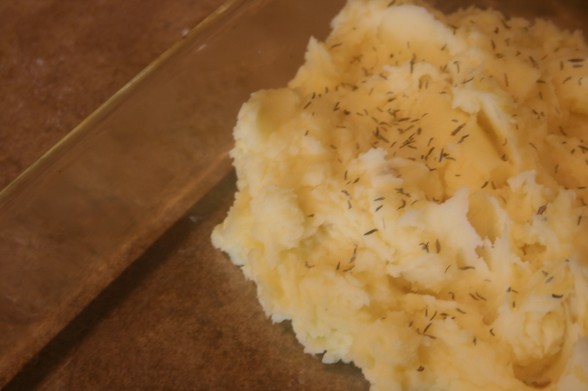 With the holidays just around the corner, we cannot miss out on a large pot of mashed potatoes! They are truly delicious when topped with gravy or simply eaten on their own. Mashed potatoes are a huge hit for our family, and we serve them with roast chicken, beef burgundy, and many other meat dishes. I find most mashed potatoes to be dry and flavorless…but not when prepared with these simple ingredients! Don't skimp on the butter – it makes a world of difference!

8 large yukon gold potatoes (yukon gold make the most golden delicious mashed potatoes)
1 cup potato water (reserved from cooking liquid – can be replaced with chicken broth or cream for even more flavor!)
1/4 cup mayonnaise (can use cream cheese or sour cream, as desired)
2 garlic cloves, minced
1/3 cup butter (or 5-6 Tablespoons)
1 teaspoon salt
dash of pepper

Directions:
1. Peel the potatoes and cut into quarters. Place in a large pot and fill with water just until the potatoes are covered. Cover and bring to a boil. When boiling, remove lid and allow to cook for about 35-40 minutes, until potatoes are easy to prick with a fork due to softness and falling apart. Allow to cool slightly.
2. Carefully drain the majority of the water, reserving approximately 1 cup. Place all the potatoes and reserved 1 cup of the potato water in a mixer. Turn the mixer on and blend until all the potatoes are nicely mashed.
3. Add mayonnaise, minced garlic, butter and salt. Continue to mix until thoroughly combined. Season with additional salt and pepper as needed. Add more liquids if necessary to make a creamy consistency.
Keep warm till ready to serve! Yum!
Yield: 6 servings.