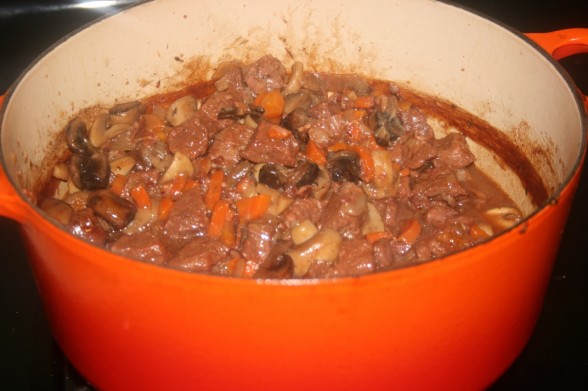 Hey friends! My goal this year is to adapt one of our favorite family recipes each month to a more simplified slow cooker version! Here is one of our favorites that I am sharing today while republishing the original recipe from the archives. You won't be disappointed!
After watching the film Julie & Julia on the life of Julia Child awhile back, I was determined to learn to cook a few of Julia Child's recipes, starting with her Beef Bourguignon, since it was so emphasized during the film (and I have the very same Le Creuset french oven as well!). After several attempts, I have come up with a fabulous adaption of the recipe that is so much simpler than the original and still ever as delicious! This meal is absolutely fabulous – especially for the meat loving husband. It is certainly a special treat for us on a budget, but it makes the man very happy, so I make it once a month or so. It is also a excellent dish for hospitality and has received rave reviews wherever we have served it. We serve over creamy garlic mashed potatoes or noodles for a delicious comforting meal. Unfortunately, I really failed in my photography on this one…but it is truly my favorite meal!
Ingredients:
6 strips of bacon
2-3 pounds stew meat, cut into 1 inch cubes
2 carrots, chopped
1 onion, chopped
1 teaspoon sea salt
1/4 teaspoon pepper
2 Tablespoon arrowroot powder or cornstarch
3 cups red Burgundy wine (pretty much any cheap red wine works as well. I recommend sticking within the french wines for best results.)
2-3 cups beef stock
2 garlic cloves, minced
1 teaspoon thyme
1-2 crumbled bay leaves
2 pounds mushrooms, quartered
1/4 cup butter
Directions:
In a large 9-10 inch fireproof casserole pan, cook bacon over medium/high heat until tender and browned. Remove bacon from pan, while leaving the bacon grease in the pan.
Dry the beef in a paper towel before placing in the casserole and saute it on each side until nicely browned.
Add the carrots, onions, and 1/2 cup beef broth and saute until tender.
After bacon has cooled, chop into small pieces, and then add back to the pan with stew meat and vegetables.
Toss with salt, pepper, and arrowroot powder and mix till well combined.
Add the wine, remaining beef broth, garlic, thyme, and bay leaf. Add enough liquid so that meat is barely covered. Bring to a boil.
Turn oven to 325 degrees. Cover the casserole and place in the lower third of the oven. Regulate heat so liquid simmers very slowly for 2 1/2 to 3 hours.
While the beef is cooking, prepare the mushrooms. In a large skillet, melt 1 Tablespoon butter and 1 Tablespoon olive oil. As soon as you see that the butter foam has begun to diminish, add the mushrooms. You may want to do them in two separate batches to prevent overcrowding, which will prevent them from browning nicely.
Toss and shake the pan for 3-5 minutes until mushrooms are nicely browned. Remove to a large bowl.
After the meat has cooked for 2 hours, add the mushrooms. Return to oven for the remaining 1/2 hour to 1 hour.
The meat is done when a fork pierces it easily. Serve immediately or cover and refrigerate. The taste improves with age! Simply reheat to serve.
Enjoy!
SLOW COOKER ADAPTION:
Yes! I am all about simplifying and making life easier for myself, so my recent adventure was adapting this recipe to make in the slow cooker. And it works beautifully
Simply throw all the ingredients into your slow cooker. The only changes you will want to make include eliminating the beef stock (as it will make it too wet) and doubling the arrowroot powder/cornstarch. You do not need to precook the meat in anyway. I like to throw the bacon in whole and then after it is cooked, I will remove and chop it up. You can saute the mushrooms as the recipe above describes for extra flavor before adding, or you can simply toss them in as well without any advance preparation. Cook on low for 6-8 hours for best results. You can cook it on high for a shorter period of time, but if you want the stew meat to be soft and tender, it is best to cook low for the longer period. Yum!