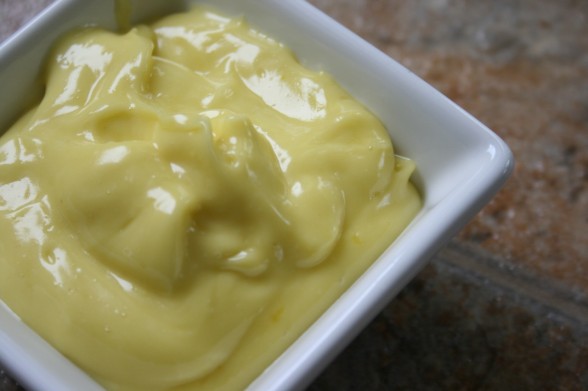 I received a stick immersion blender for Mother's Day this year…and I have certainly been thrilled with the performance of this little machine. I have made guacamole, mayonniase, baby food, pureed soups right in the pot, deviled eggs, and numerous other food items and it has been a huge time saver with fantastic smooth results. This tool retails for approximately $30. I have tried making homemade mayonnaise in my regular blender several times over the years in my pursuit of using more natural home prepared ingredients, and never had the best results. It sure never got really fluffy and took forever to gradually pour the oils in drip by drip as most recipes required. I was stunned when I made mayonnaise in just 10 seconds with my hand blender. Yes…10 seconds.
This recipe is pretty flexible to use whatever oils you desire. For the nutritional benefits, I chose to use 1/2 olive oil plus another oil. Olive oil alone results in a pretty bitter mayo. But coconut oil alone will give you a very solid product in the fridge once it cools completely. I liked 1/2 olive oil and 1/2 coconut oil, but it still got solid over time in the fridge. So our current favorite is 1/4 cup olive oil and 3/4 cup grapeseed or sunflower oil for the mildest flavor. It also does not get so solid with these oils. It is easily adaptable to your preferences.
Ingredients:
1 egg yolk (we use local farm fresh pastured eggs)
3-5 teaspoons white vinegar
1/4 + 1/8 teaspoon sea salt
1-4 teaspoons sugar, optional (we used xylitol)
1/4 teaspoon lemon juice
1/4 teaspoon dry mustard
1/4 cup olive oil (cold pressed) or coconut oil, melted
3/4 cup grapeseed, or sunflower oil
Make sure all ingredients are at room temperature. Break egg yolk into the bottom of the hand blender jar that comes with your stick blender (or a container that is just wide enough to let the blender pass through – a wide mouth mason jar would work as well).
Add all the other ingredients except oil on top of the egg.
Carefully pour 1 cup oil on top of all the ingredients in the bottom of the jar.
Put mixing blades of hand blender (turned off) flat at the bottom of the jar over the egg yolk, pressing down over the egg yolk.
Turn the blender on high and blend for 5 seconds, holding it in place at the bottom of the jar. Gradually pull the blender up to the top of the jar over an additional 5 second period. Turn off blender. You will then have beautiful fluffy mayonnaise.
Yield: 1 1/4 cup
Caution: Learn from my mistake and make sure to unplug your stick blender before cleaning out the excess ingredients that collect inside the blades. Yes, I lost my finger nail this week in this manner.

It wasn't a pleasant experience. I make silly mistakes just like any other homemaker…