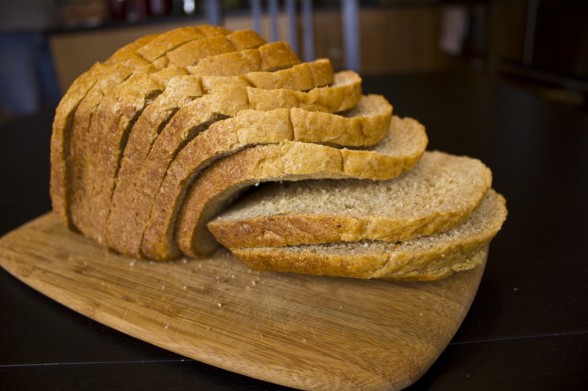 Guest post by Emily Benhase
For my first birthday after we were married, my husband gave me a bread machine. I had wanted one for months and loved it! But just a few months later, I was introduced to the "real food"/Nourishing Traditions way of cooking and eating. As I learned more about the benefits of soaking grains before consumption, the bread machine was used less and less. I assumed a soaked bread recipe and the bread machine were incompatible.
I started making Lindsay's recipe for soaked whole wheat bread, by hand, on a bi-weekly basis, making two loaves at a time (we ate one fresh and froze the other for the following week). Although I did enjoy the process of bread making–especially kneading–I soon realized there had to be a more efficient way to make healthy, homemade bread for my family. I determined to adapt this delicious recipe to use in my bread machine. It didn't take long before I was successful!
We love this bread. It is our standard bread that we use for toast, sandwiches and simply enjoying warm with butter and a drizzle of honey; we also think it makes wonderful grilled cheese! Especially now that we have added two little ones to our family, I love not only the healthfulness of this bread, but the convenience of my bread machine doing the work for me.
Tips Before You Begin:
Make sure the flour/water mixture you'll be soaking is plenty moist. You don't want it to dry out, plus this will make it easier on your bread machine to mix in the remaining ingredients the next day.
In order to maximize the effectiveness of the soaking, you should make sure you are using warm to hot water.
You do need to activate the yeast for this recipe.
Any combination of white/whole wheat flour can be used (I use 2 cups white whole wheat flour and 3/4 cup unbleached all-purpose flour).
I prefer white whole wheat flour as it provides a lighter end product. This type of flour can be found in most supermarkets these days.
To achieve the most even slices, let your bread sit out overnight. Do not attempt to cut it right after baking (I know it's tempting, it smells so good!). Letting it sit will help it firm up and will result in nice, even slices. Using a quality bread knife is also very helpful!
I've also included instructions at the bottom on how to make the dough in your bread machine and bake it in the oven, if you prefer that method. I have done this many times with great results. If desired, you can double the recipe and make two loaves worth of dough in the bread machine.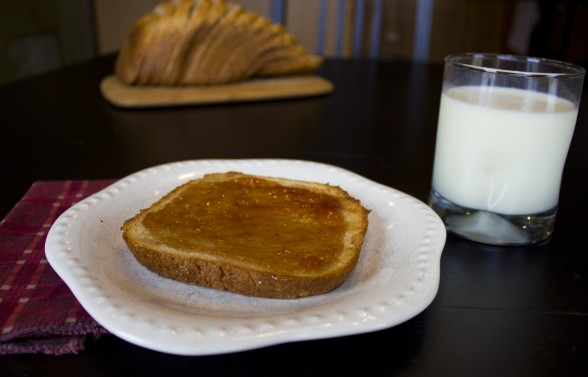 Soaked Whole Wheat Bread in the Bread Machine
1 Tbsp apple cider vinegar (or lemon juice), plus enough water to make 1 cup
1/4 cup honey (I've also used raw cane sugar and maple syrup with success)
3 Tbsp oil or melted butter
1/2 cup oats
2 cups whole wheat flour (I use white whole wheat)
1-2 Tbsp add-ins (ie, ground flax seed, millet, wheat germ, etc.), optional
2 Tbsp warm water
1/4 tsp honey or sugar
2 tsp yeast
1 1/8 tsp salt
1 Tbsp vital wheat gluten
3/4 cup unbleached all-purpose flour
Directions:
1. Add vinegar, water, honey and oil to the pan of your bread machine. Then add the flour, oats and add-ins, if desired. Start the bread machine on the dough setting and allow to run for about five minutes, just until the ingredients are well-mixed. Turn off or unplug the machine, scrape down any dough stuck on the sides of the pan and allow mixture to soak for 12-24 hours.
2. After the soaking period, in a small bowl, combine the 2 Tbsp warm water, honey and yeast. Allow to activate for 5-10 minutes, until mixture is foamy. Add yeast mixture, salt, vital wheat gluten and additional flour to the bread machine pan.
3. Select the whole wheat setting and desired crust darkness (I use medium) and press start. Keep an eye on the dough for the first few minutes to see if any extra water or flour is needed. You want the dough to be slightly tacky but not too wet.
Allow the loaf of bread to cool for 10 minutes in the pan, then cool on a wire rack overnight. Slice and enjoy!
To bake bread in the oven:
Follow steps 1 & 2. Select the dough cycle on your bread machine and press start.
When the dough is finished, remove it from the pan. Punch down and on a lightly floured surface, roll the dough into a large rectangle, then roll it up and tuck the ends under so it fits in your bread pan. Place the dough in a greased bread pan, cover with a towel and allow to rise in a warm place (I turn my oven on the lowest setting: 170 degrees) until doubled, 30-45 minutes.
Once the dough has risen, preheat your oven to 350. Bake the bread for 30-45 minutes, until the sides and top are lightly browned and the bottom sounds hollow when tapped. Allow the loaf to cool in the pan for 10 minutes, then remove to a wire rack to cool completely (see notes above for slicing).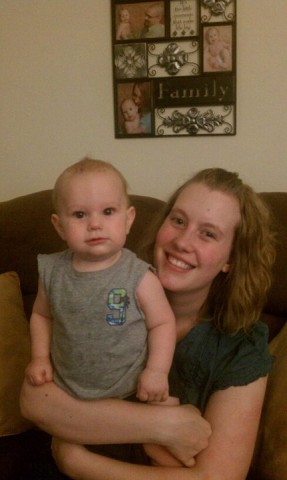 Enjoy!
To learn more about soaking, visit The Value of Soaking Your Whole Grains.
Emily is a homemaker who lives in Cincinnati, OH with her husband Ryan and their two children: Jericho (2) and Anna (4 months). Their family is passionate about urban living, good food and, most of all, living their life in a way that honors and serves God.