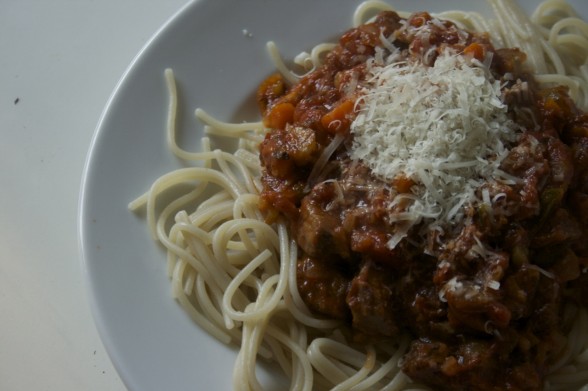 I love the Italian heritage that runs in my family and the immense flavors for delicious simple spaghetti sauce. It is perfect for a cozy fall night and a great means of concealing a lot of extra veggies in one place. Plus when you throw it all in the slow cooker or stove top and allow it to slowly simmer all day, the flavors mesh in amazing ways leaving you with a rich satisfying meal. You can add zucchini and carrots discreetly by simply finely chopping them before adding. I usually use a pound of ground beef or half ground beef and half sausage for a tasty addition. This last week I used stew meat and it was good. This is a family recipe that has been passed down through the years. You can't go wrong.
Ingredients:
1 onion, chopped
1 green or red pepper, chopped
3 garlic cloves, minced
1-2 carrots, finely chopped (for disguise purposes)
1 zucchini, finely chopped
2 celery stalks, chopped
2 Tablespoons oil
1-2 pounds ground beef, pork roast, italian sausage, stew meat, meatballs (your choice!)
1 can diced tomatoes (28 oz) or 1 quart of homemade canned tomatoes
1 can tomato sauce (15 oz)
1/4 cup dried parsley
1 Tablespoon dried basil
2 teaspoons dried oregano
2 teaspoons salt
1/2 teaspoon pepper
1-2 Tablespoons natural sweetener (honey, xylitol, rapadura), for balancing of flavors
2-3 Tablespoons cornstarch or arrowroot powder
Parmesan cheese, topping (optional)
16 oz package of spaghetti noodles (we love brown rice and quinoa noodles! Tip: wash in cold water to prevent sticky noodles!)
Directions:
1. Saute onion, pepper, carrots, celery, and zucchini in oil until soft.
2. Add meat and cook until no longer pink.
3. Add remaining ingredients.
4. Cover and simmer for several hours, or transfer to a slow cooker and cook on low for 6-8 hours, stirring occasionally. If you use slow cooker, add more thickener as needed.
Yield: 6-8 servings.