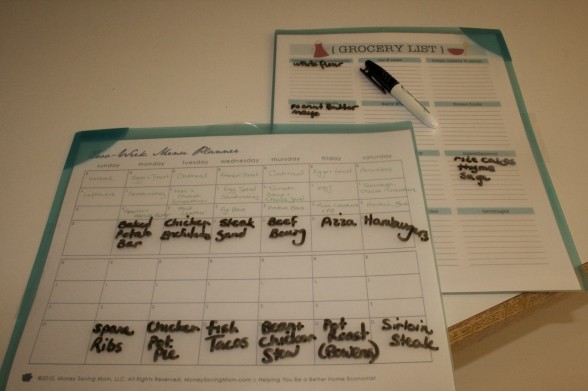 In many facets of my homemaking, I am still very old fashioned. When it comes to menu planning, I really like a simple plan. No fancy menu planning software, programs, or applications. Many others might find these systems useful, but I love the simplicity of my dry erase board and  a basic grocery shopping list. I prefer shopping twice a month to consolidate my outings and keep me closer to home, so I prefer to build a two week menu plan. This same system works for all methods, whether you chose to plan weekly, every other week, or monthly. I have found through trial and error that you really can save alot of money by only making a monthly or bi-monthly trip to the grocery store. It's worth it. In times past I have done a monthly plan and system, but currently, a two week plan is working well.
1. Set a day and time you can do your planning and shopping.
I choose Sunday evening every two weeks to work on menu planning along with my other miscellaneous planning for the week. Sometimes it gets spread out during Saturday morning as well, but my goal is to have it completed before Sunday evening, so I can go shopping twice a month on a Monday morning. Pick a time that works for you.
2. Pick your a printable menu plan chart & shopping list of choice.
It can be a weekly or two week calendar pasted to your fridge or wall, or in your kitchen drawer. Money Saving Mom has some awesome free printables for weekly/two weeks/and monthly plans. Tip Nut has a collection of free printable grocery shopping lists. I love this cute grocery shopping list. Laminate it, place it in a sheet protector, or put it in a glass 8×10 frame for simplicity and resuability. I hang both my two week menu plan and ongoing grocery list (both in hard covered sheet protectors) on the wall in my kitchen, so I can jot down different food staples as we run out of them throughout the week. When it is time to head to the store, I transfer this list to a basic document on my phone which makes it easy to delete items as I pick them up (I like the iPhone Clear app). You could also just print a new grocery list for each shopping excursion, if you love the use of paper.
3. Ask your hubby and kids.
What do they want to eat this week? Any special requests? I want to honor their desires on occasion to show them I love and care for them deeply, and this is a practical way I can show love and appreciation to them. I jot down these ideas and then any new ideas that I have been desiring to try. Inspired from Pinterest? Jot that down.
4. Scan the freezer.
Then I look in my freezer and cupboards and check out what meats I currently have on hand, what needs to be used, what meals have been frozen and forgotten, etc. I make a quick list of these items to reference. Since we purchase our meats annually in bulk buys, I have to keep an eye on what I have and spread them out.
5. Pick nightly themes.
What kind of cuisines does your family prefer? Set a regular pizza night, chicken, soup, main dish salad, mexican, casserole, or italian as a theme in your schedule. Pick 6-7 of your favorite themes and assign a night for each of them. You may want to have a leftover night or eat out night as desired. We like to keep Sunday evenings for the occasional family dinner out, date night, hospitality, or leftovers. Friday evenings is often pizza night at our home at least every two weeks. Having a theme gives you a launching point for each day so you don't feel like you're completely lost.
So your list might look something like this:
Mondays: Soup & Salad
Tuesday: Crockpot
Wednesday: Mexican
Thursday: Chicken
Friday: Pizza
Saturday: BBQ
6. Make a running Breakfast, Lunch & Snack Menu.
I keep a running weekly breakfast, lunch, and snack menu that goes on repeat week by week. This keeps things simple and more easily restocked. I rarely change this part of my menu planning except for special occasions (birthdays, holidays, etc.). Once the plan is set, I don't have to think about it and can just focus week by week on the dinner menu. Here are our regulars:
Breakfasts:
Monday – Eggs & Toast
Tuesday – Oatmeal
Wednesday – French Toast
Thursday – Oatmeal
Friday – Eggs & Smoothies
Saturday – Pancakes
Sunday – Cereal
Lunches:
Monday: Sandwiches (Turkey or ham)
Tuesday: Mac & Cheese
Wednesday: Egg Salad Sandwiches
Thursday: Tomato Soup & Grilled cheese sandwiches
Friday:  Cheese, Summer Sausage, and Crackers
Saturdays: PBJ's
Snacks:
Apples & Peanut butter
Cheese and crackers
Stretch Island Fruit leather
Brown Rice Cakes with Peanut butter
Fig Bars
Nourishing Protein Bars 
7. Search your cookbooks, favorite recipe websites, and find meals around your themes. 
I currently mainly use Real Simple Best Recipes cookbook, Allrecipes.com, and my own recipe index for my meal inspirations. Another great healthy site is Nourishing Gourmet (edited by a long time friend of mine), Allrecipes.com is especially useful for specific ingredient searches and a wealth of reviews on each recipe. For example, I may have a chuck roast in the freezer, so I'll search Allrecipes.com for recipes with that ingredient and get inspiration from the recipes that come up. This site is helpful because it provides a wealth of awesome reviews and ratings, and most of the recipes can be easily adapted to make them more nutritious (see my tips for making recipes more whole foods based here) according to our diet specifications. I also add the ideas that my hubby and kids offered, and whatever leftovers I discovered in my fridge/freezer.
Alongside our main dishes, I plan side dishes for several dinner meals (specifically those with a meat based meal) with in-season produce. I usually only make a side dish if the main dish isn't a casserole combination of some kind for simplicity sake. Right now, we're eating alot of fresh veggies – corn, green beans, brussel sprouts, and more!
All my ideas get written down on the master dry erase menu plan board.
8. Make your shopping list.
Once you have all your meals planned out on your sheet, lay your grocery shopping list next to your menu plan. Start at the beginning of the week and scan through the ingredients required for each meal. Add any necessary items to your running grocery shopping list. Work towards the end of the week or two week period as you have chosen. Remember any staple items that may have been consumed and need restocking. I scan through my dried herbs, pantry, and bulk grains to make sure I have sufficient stock on hand. If not, I add that to my grocery list too.
Finally, if I really have my act together I would clean out the fridge before departing to the grocery store to make room for new food and to clear out any past their prime items. This is my goal.

With my master shopping list in hand, I pack up and depart for the grocery store. I always pack a little snack for the kiddos. In this season of my life, we limit it to ONE stop. It's not worth it to me with limited time and energy to go to every sale in town. I find a store that I can get every item on my list at and go there. Currently, it's usually Trader Joes or our local New Seasons Market. I may spend a bit more then if I couponed and hit all the sales, but I can get all my grocery shopping down for the next two week period in one hour flat. And then we can get home and spend more time relationally with my little ones and managing our household well.
Please note: this is a system that works for me but goes through its own tweaks and changes on a regular basis. You have the freedom to take ideas and adjust them to your preference! I know for sure this way might not work for everyone, and that's okay! Find a system that works for you and go for it, sister! Please share your favorite menu planning tips!