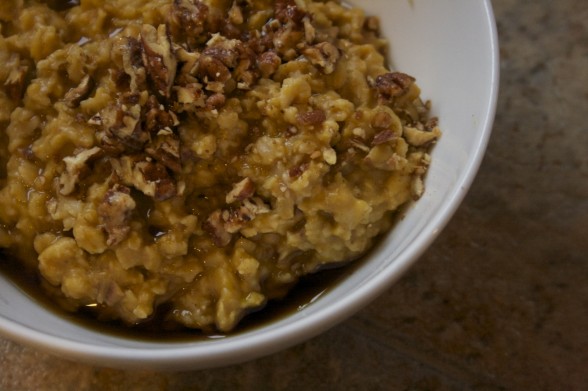 We eat oatmeal at our home about two to three times each week because it is cost effective, filling, and nutritious. But it can often get a little old without some fun variety here and there. With the fall season, pumpkin is a favorite flavor that adds a scrumptious taste to traditional oatmeal. It's yummy, simple, and healthy!
2 cups rolled uncooked oats
3 1/2 cups coconut milk (or combination with water or other milk of your choice)
1 cup pumpkin puree
1 teaspoon vanilla
1 teaspoon pumpkin spice (or 1/2 tsp cinnamon, 1/8 tsp ginger, 1/8 tsp nutmeg, dash of cloves)
Candied pecans/walnuts
Maple syrup or honey, to sweeten
1. In a medium saucepan, combine rolled oats, coconut milk, pumpkin puree, vanilla and spices. Mix till well blended.
2. Place saucepan over high heat on the stove and bring to a boil. Turn down to a simmer and allow to cook for about 5 minutes, stirring frequently.
3. Remove from heat and transfer to individual bowls and top with chopped nuts and sweetener of your choice. You may want to add a bit more milk to your taste.
Enjoy!
Yield: 4-5 servings.