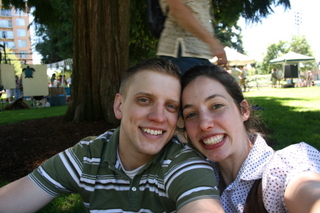 We had such a fun weekend as a family touring the Vancouver, WA farmer's market! What a beautiful weekend it was and everyone was out getting fresh fruit and vegetables.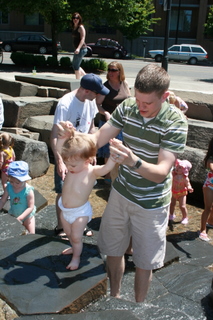 Daddy & Karis playing in the water! Don't you just love naked babies in their cloth diapers!
We also enjoyed the recycled product event that was taking place as well. There were multiple booths filled with creative reusing and recycling of products. Here are a few of our favorites: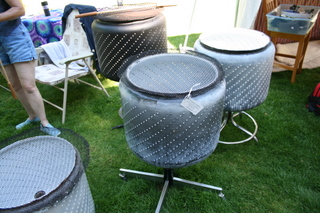 A recycled washer machine bin attached to a old chair base – transformed into a camp stove/grill!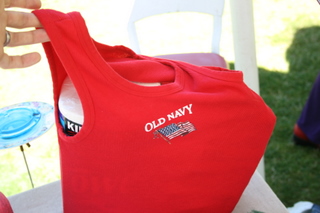 Make your own re-usable shopping bag! Grab an old tank top and sew the bottom up! Ta da!

Now on to the menu plan for the week!
A great resource for summer meals, check out ideas compiled by GirlTalk here! I got some great ideas off this list that have helped me finalizing my Summer monthly menu plan, which I will be posting shortly.

Once again, I try to include preparation steps to keep me on top of thawing food and soaking my grains!
Monday
Prep: soak oatmeal for Tuesday, thaw quinoa & black beans (cooked previous week), marinate chicken thigh for dinner, soak tortillas dough for Tuesday
Breakfast: Kefir Smoothie, raspberry muffin or bagel
Lunch: Tomato Soup, grilled cheese sandwiches, cherries (fresh from the farmer's market!)
Dinner: Chicken Caesar Salad (lettuce, Parmesan, homemade croutons, cucumbers, marinated chicken breast), Quinoa & Black Beans
Tuesday
Breakfast: Oatmeal Muesli (coconut flakes, almonds, coconut milk added to basic oatmeal, topped with raw honey -yum!)
Lunch: Salmon Melts, Cherries
Dinner:  Black Bean Wraps on Homemade Tortillas, Strawberry & Feta Salad
Wednesday
Prep: thaw lentils, soak oatmeal, soak black beans for Thursday
Breakfast: Smoothie, muffin or toast
Lunch:  Quesadillas (with leftover filling from Tuesday)
Dinner:  Sloppy Lentils, Salad

Thursday
Prep: thaw chicken thighs for dinner, soak granola
Breakfast: Oatmeal, apples, raisins
Lunch: Leftovers
Dinner:  Guests- Chicken Fajitas (corn, black beans, green pepper, guacamole, salsa, sour cream)

Friday
Prep: soak pancakes, make spaghetti sauce for pizza, thaw pizza dough
Breakfast: Fruit Salad, yogurt, homemade granola
Lunch:  Peanut Butter & Jelly, applesauce, celery sticks
Dinner: 4th of July Picnic with friends
Saturday
Breakfast: Pancakes (it's the hubby's favorite – what can I say?)
Dinner:  Homemade Pizza, Tomato & Cucumber Salad
Coming up on the blog plan for the week: discussing healthy snacks for the family, simplifying tips in the kitchen, and participating in the nourishing frugal food carnival this Friday hosted by Kimi at The Nourishing Gourmet…to name a few. Stay tuned!