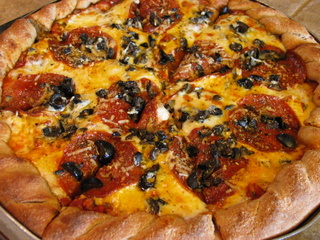 This is a wonderful recipe to make ahead and freeze. But it can be used at any time! Whenever I am planning my weekly menu and ask my husband for some requests, without fail I can rely on him to request pizza. We make it every two or so weeks at our place.
Homemade Pizza Crust
2 Tbls Yeast
3 1/2 cups water 110F, divided
3 Tablespoons acid medium, for soaking (whey, kefir, yogurt, lemon juice, apple cider vinegar)
1 tsp honey
¼ cup honey
1 Tbls salt
8-10 cups whole wheat flour (or combination with kamut flour)
______________________________________________________________________________
Soaking Step (optional, if you want to skip soaking, proceed with the instructions below the line)
To receive the full nutrients and break down the phytates, try soaking the whole wheat flour in advance, otherwise, skip this step.
Combine 10 cups of flour, 3 cups of water requested in the recipe, substituting some of the water with about 3 Tablespoons of whey, kefir, yogurt, apple cider vinegar, or lemon juice (no need to be exact), and 1/4 cup honey. Allow to soak for 12-24 hours. After soaking, activate the yeast in a small container with the remaining 1/2 cup of warm water and 1 tsp of honey. Allow to foam up for about 5 minutes. Add the proofed yeast mixture to the soaked flour, along with the salt. Knead for 5-10 minutes. If recipe is still sticky, add a little more flour as needed until it is able to be kneaded. Continue with recipe below.
_____________________________________________________________________________
Preheat over to 500 degrees (if you are baking right away). Combine yeast, 2 cups of warm water, and a teaspoon of sugar or honey in a bowl, cover and let sit for 7-10 minutes. Add water, honey, and salt. Mix thoroughly. After dissolved, add flour bit by bit, beating thoroughly. After all flour is beated in; knead 5-10 minutes. Let rise for thicker pizza dough. Divide into four sections for four crusts. Bake for 10-15 minutes.
This works wonderful with all whole wheat flour (hard white or red wheat) or with a combination with kamut flour (provides a lighter texture). Whole wheat pastry flour makes it very crumbly. Great easy recipe and tastes fabulous!
Here are some topping recommendations (these are my hubby's favorites!): Pepperoni, cheese, Italian sausage, green peppers, garlic salt, Italian seasoning, Parmesan cheese
Enjoy!
For the Freezer
Mix dough completely as instructed and then divide into 4 portions. Freeze the dough in individual Ziploc bags. You do not have to pre-bake the dough – simply put the dough immediately into the freezer. When you are ready to use, thaw in the refrigerator for several hours, bring to a room temperature and then roll out and assemble as desired.