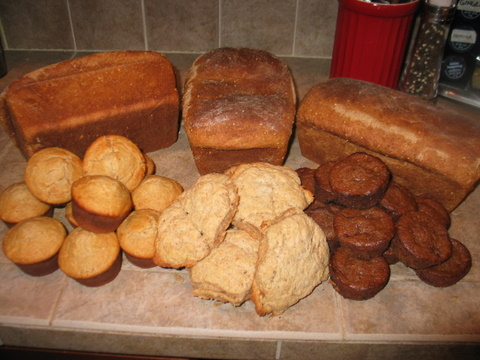 The final product: 3 loaves of bread, 2 dozen muffins, 1 dozen biscuits
In light of my goal to simplify my life (schedule and all!), I have began to complete my baking for the month all at once. I am trying to increase eating whole grains as a more substantial part of our diet. They are so nutritious and filling, so we don't have to eat as much meat (as grain is an excellent source of protein as well and far cheaper!).
I have set the first weekend of the month to be my baking weekend. Now, I do keep it rather simple. I stick to a batch of bread, muffins, and biscuits. I may throw in a batch of cornbread and pizza crust, but these are less frequently (a batch of these lasts two months normally). This has worked really well for the last two months. I even incorporated the process of soaking my grains in the schedule to increase the nutritional content of the grain and break down the phytates (which makes it difficult to digest). This is an optional step. I start soaking on Friday morning and bake everything on Saturday.
I have found that baking the products and then placing them in the freezer in ziploc bags really makes it easy to just pull something out for breakfast or dinner. I figured out how much we would eat in a month's time and then made a batch large enough to last that duration. For instance, we eat three loaves of bread, approx. 2 dozen muffins, and 1 dozen biscuits in a months time. I serve biscuits with soups, muffins with smoothies and breakfasts, and bread with everything (well, almost!).
So figure out your family favorites and simplify by making big batches at a scheduled time! That way you aren't rushing at the last minute…and increase your grain diet at the same time!
My Recipes
I have included my soaking step, but this can be skipped if you like and just combined with the next step. For more on soaking, read here. I also use coconut oil now for greasing all my pans, applying it with my fingers, as it is a solid substance. I just rub it into my hands afterwards because it is so good for your skin! You may want to melt it in a saucepan if you want to use it in the following recipes.
Raspberry Muffins or Bread
These are to die for!
1 1/2 cups whole wheat flour (I use whole wheat pastry)
1/2 tsp baking soda
1/2 tsp baking powder
1/4 tsp salt
1 1/2 tsp cinnamon
3/4  cup sugar (I use rapadura, or another natural sweetener)
1 1/2 cups raspberries, frozen
2 eggs, well beaten
2/3 cup oil, coconut oil preferred
1. SOAKING: Since this recipe does not call for buttermilk or other milk liquids, I simply soak the flour in 2 Tbls of kefir/cultured buttermilk, along with the oil and a bit of water to make it a moist texture. Soak 12-24 hours. After soaking, I add remaining ingredients.
2. Preheat oven to 400 degrees. In a medium bowl, mix the dry ingredients. Make a well in the center and stir in the undrained raspberries and eggs. Thoroughly mix in oil. Spoon batter into lightly greased muffin tins or 1 loaf pan. Muffin cups will be full. Bake for 15-20 minutes. Cool 5 minutes before removing from pans.
Makes 1 dozen or 1 -9×5 loaf pan.
Millet Muffins
A fun way to use other grains!
2 1/2 cups whole wheat flour (I used 1/4 cup barley, and 1 1/4 cup whole wheat pastry)
1/3 cup ground millet flour
1 tsp baking powder
1 tsp baking soda
1 tsp salt
1 cup cultured buttermilk/kefir
1 egg, lightly beaten
1/2 cup oil (I used coconut oil, melted)
1/2 cup honey
3 bananas, mashed
1. SOAKING: Combine flour and cultured buttermilk/kefir, honey & oil. Soak 12-24 hours.
2. Preheat oven to 400 degrees. Grease muffin tins.
3. In a large bowl, mix the flour, millet, baking powder, baking soda, and salt. In a separate bowl, mix the buttermilk, egg, oil and honey (or combine it all together at once, as I did, since I had already soaked the buttermilk with the flour). Stir buttermilk mixture into the flour mixture just until evenly moist. Transfer batter to muffin tins. Bake for 15 minutes.
Makes 1 dozen
Spelt Biscuits
7 cups spelt flour (or any combination! I use half spelt and half whole wheat pastry flour)
6 tsp baking powder
2 1/2 tsp salt
1 1/2 cups butter (or 3/4 c. butter, 3/4 c. coconut oil)
2 cups buttermilk/kefir
1. SOAKING: Soak flour and buttermilk/kefir for 12-24 hours (covered on the counter). I usually include the butter/coconut oil and additional water (about 1/2 cup) in the soaking to maintain a moist dough.
2. Add remaining ingredients to the flour and buttermilk. Put 1/8 cup of olive oil in the bottom of a 13x 9 pan (you will probably need two pans). Pour flour on counter, and pat out 1 inch thick. Cut out with glass cup that is floured. Dip in oil, top and bottom. Put them close together in pan. Bake at 400 for 18 minutes.
Makes 22 biscuits
Here are muffin batches and the biscuits soaking the day before. The bread is pictured below. Notice it is a moist wet dough. Soaking actually just gets you started on the project in advance and is really quite simple!