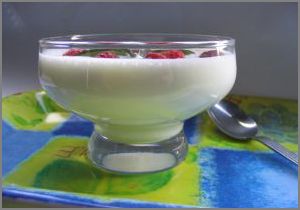 Who would have thought homemade yogurt could be so easy and yet so yummy! Making homemade yogurt is not only frugal, but you get to control all that is added to your final product. Unfortunately, most store bought yogurts are loaded with sugar and preservatives.
I started out using the standard recommendation of heating the milk to between 120-180 degrees, but have soon discovered that this is basically pasteurizing the milk and kills a lot of the nutritional value in milk. I use raw milk from a local farmer because all the nutrients are intact (why raw milk, read here).
The problem is if you don't heat it up, the resulting yogurt is of a different consistency, more runny and wet, a different fermented produce. Now I have come to the understanding that you can make raw milk yogurt successfully without heating to such high temperatures. The key: non-instant milk powder or gelatin! This stabilizes it and makes a nice firm yogurt. If you are not able to get raw milk, pasteurized milk will still produce a very valuable yogurt as well, you will just have to heat to 120-180 degrees before cooling to 110 degrees and proceeding with recipe. It will still be more beneficial than store bought yogurts!
Read more on heating raw milk for yogurt here.
Benefits of Yogurt
Of all the cultured dairy products, yogurt is the most versatile. Yogurt assists the intestines in destroying harmful bacteria by producing an acid environment. Yogurt with active cultures may encourage friendly bacteria production in the digestive tract. Milk protein is more quickly and easily digested in yogurt form over liquid sweet milk. The more tart the yogurt, the greater the absorption of calcium. Eating yogurt can relieve both constipation and indigestion.
Supplies needed:
quart size glass jar
candy thermometer
1 quart fresh milk, raw
2 Tbsp non-instant milk powder or 2 tsp gelatin
2 Tbsp yogurt starter, from previous batch or quality plain yogurt
2 Tbsp honey or maple syrup
Large pot
Heating pad
Steps for Making Raw Milk Yogurt
1. Make sure you have clean equipment
2. Keep equipment hot. Fill a kettle with water to boil. You will want to fill a quart size jar with this hot water to keep all your incubating tools warm. Also fill a large pot with this hot water, as this will be your incubating station.
2. Use very fresh, high quality unprocessed milk and heat over low heat to 110 degrees. If not available, use pasteurized but non-homogenized milk and heat to between 120-150 degrees and then cool to 110 degrees.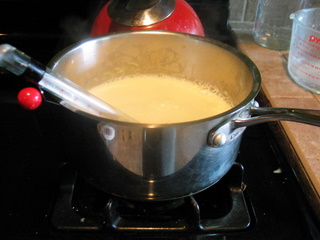 3. Remove from heat and add non-instant milk powder or gelatin, sweetener (if desired), and yogurt starter. Since the curd of unheated yogurt is very fragile, I add some milk powder to make a thicker yogurt, otherwise it will be very thin. Stir gently into milk. I normally sweetener after incubating, so as to have a bit of plain yogurt to start the next batch.

4. Empty clean glass jar of hot water and pour yogurt into jar and cover loosely with lid.
5. Remove to a warm place to culture for 10 – 12 hours, or until set. I use a large pot and fill half way up the jar with water (110 degrees). Using a hot pad underneath helps to maintain this temperature, otherwise you will need to keep replacing hot water. Cover entirely with dish towels or a large bath towel. You can also use a yogurt maker, thermos, crockpot (over low) or dehydrator. I start mine in the morning and let incubate all day, or start at night and let it incubate overnight.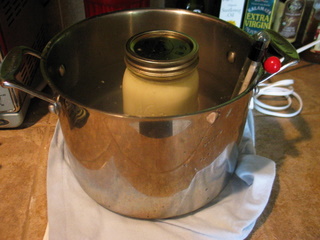 6. Check every few hours till it is firm. Remove to refrigerator and allow to cool for about 3 hours before diving in and enjoying! It will thicken more as it cools. There is no end to the toppings you can throw in. Try cut up fruit or nuts, flax seeds and the like.
7. Take out 2 Tbsp for your next batch! Use starter within a week for your next batch for best results.