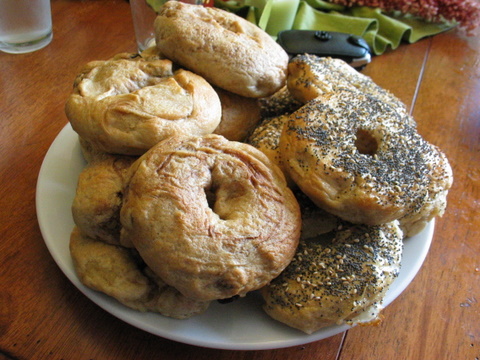 Here are the results from our bagel making today! My sister in laws, Autumn & Larissa, and cousin Amy joined me in the fun (along with all the little munckins)! We made cinnamon & raisin and plain sprinkled with poppy seeds & sesame seeds. This was incredibly easy to make! Well forth it! These were especially good right from the oven! You can use all or a portion of whole wheat flour as desired.
1 1/2 cups warm water (112-115 degrees F), divided
2 Tbsp acid medium (yogurt, kefir, apple cider vinegar, lemon juice, etc)
1/4 cup honey
2 tablespoons dry yeast
1 tablespoon salt
2 cups unbleached white flour PLUS 2 1/4 cups whole wheat flour (all whole wheat works as well!)
8 cups of water, for boiling
1 egg white, lightly beaten
1 tablespoon water
cinnamon & raisins, poppyseeds, sesame seeds, optional toppings
Directions:
Combine 1 cup water, acid medium, flour and honey. Cover and soak at room temperature for 12-24 hours.
After soaking, combine yeast, the remaining 1/2 cup for warm water with a dab of honey. Allow to puff up for about 5-10 minutes.
Combine soaked flour, yeast, and salt and knead dough on a floured surface for 5 minutes, adding additional flour if necessary to prevent it from sticking. Dough should be fairly smooth and somewhat firm.
Place dough in a greased bowl, cover, and let rise until doubled.  Punch dough down (if making cinnamon raisin bagels, add the cinnamon and raisins now — knead just enough to swirl the cinnamon through the dough).
Divide and shape into 12 balls. (For larger bagels, make only 8 balls.) Allow to rest for 5 minutes.When soaked, the dough will expand more significantly than unsoaked flour, so be sure to keep them on the smaller side.
Bring 2 quarts of water to boil.
Make a hole in each ball of dough and pull open about 2 inches, making a bagel shape. Place the shaped dough onto a cookie sheet and cover for 10 minutes.
Preheat oven to 350 degrees.
Drop 2 or 3 bagels at a time into the boiling water for about 45 seconds to 2 minutes, turning each once. Drain cooked bagels on a wire rack.
Mix egg white and water; brush tops with egg white mixture and top with optional toppings, if using.
Place bagels on greased baking sheets.Bake at 350 degrees for 35 minutes, turning once half-way through baking. (If making plain bagels, you can flip the bagels; otherwise, just rotate.) Bagels will be lightly browned and shiny.
Enjoy!