It's wedding season, and we had several to attend this year! What a joy and delight to rejoice with others in the celebration of their union, especially when it is Christ centered. We attended a wedding this past weekend, and have another in a few weeks time. My sister-in-law, Larissa, has the gift of creativity and she is inspiring me in that direction! This is a testimony to that…as all these ideas for the most part are coming from her! Here is my frugal and creative wedding baskets for the bride & groom: a romantic dinner for two!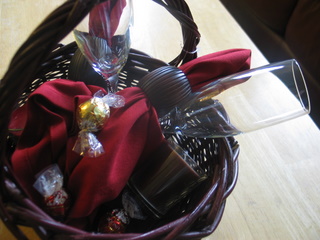 In the basket I included two cloth napkins and holders (depending upon their kitchen colors), a candle or two, two champagne glasses, a few candies, and a menu for a romantic dinner for two. I included recipes for our favorite dinner that I served on Valentine's Day of this year. This basket cost under $10 dollars…just with a little thought put into it! Baskets will simple goodies can look so elegant and be creative and fun at the same time!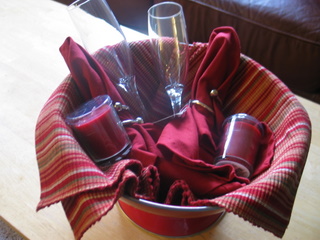 This basket included several of the same items above, plus two placemats and a red colander!
Any other fun ideas to include in such a basket?