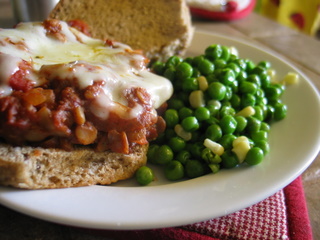 It Frugal Fridays! This is our frugal and nutritious (F & N) meal of the week! This is a variation to sloppy joes without the meat, and is actually quite good! Served on a sprouted wheat bun (I haven't had success making my own buns yet…), topped with raw cheddar cheese and peas and corn on the side! Yum! We are eating lentils once a week now and it is a great way to save money on the food budget, cutting back on meat while still eating healthy!

3 cups water
1 cup lentils, rinsed
salt to taste (optional)
1 cup chopped onion
3 tablespoons olive oil
15 oz can diced tomatoes
1/2-1 (6 ounce) can tomato paste
2 cloves garlic, minced
1/2 cup ketchup
1 teaspoon mustard powder
1 tablespoon chili powder
3-5 tablespoons rapadura, molasses, or honey
1 Tbsp white vinegar
salt and ground black pepper to taste
4 hamburger buns, split
Soaking Step (for benefits read here), optional: Allow lentils to soak over night in warm filtered water with 2 Tbsp acid medium. Rinse and cook as described below.
Combine water and lentils in a saucepan; season to taste with salt if desired. Bring to a boil over high heat, then reduce heat to medium-low, cover, and simmer until tender, about 30 minutes, stirring occasionally.
Meanwhile, cook onions with the olive oil in a large skillet over medium heat until the onions have softened and turned translucent, about 4 minutes. Add tomatoes, garlic, tomato paste, ketchup, mustard powder, chili powder, molasses/sweetener, vinegar, salt and pepper; simmer 5 to 10 minutes until thickened.
Drain lentils and reserve cooking liquid. Stir lentils into sauce mixture, adding cooking liquid or water as needed to obtain the desired "sloppy joe" consistency. Serve on buns.