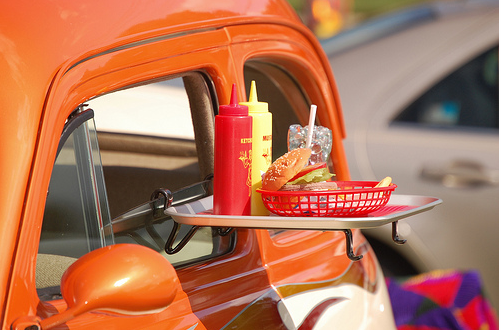 Photo credit
This post is brought to you by Passionate Homemaking's monthly contributor, Michele Augur.
Amy asked: "My children are older (11,13,14,15), but many tips will apply to all ages. We are heading out on a 16 day summer road trip in August. I have filled our trip full of parks, factory tours and many many other free or low cost activities. I am planning on preparing home cooked food throughout the entire trip. Normally, I can manage this, but our trips are usually a week or less at a time and we aren't continuously moving. On this trip, we won't be in any one place longer than two nights. I would love any tips from you and your readers on food ideas, entertainment in the vehicle, etc. I am spending 5 months planning!

P.S….we are taking a small travel grill, a cooler and in most rooms we will have a fridge and microwave only. I also plan on taking my large electric griddle for pancakes, etc. That is a about all I have to work with!"
I am so excited for you, Amy! Our family loves adventures like these.
Preparing home-cooked food while traveling is usually the most frugal and healthy option for meals on the road. Some advance planning certainly helps, though! Here are some tips to make the trip go a bit smoother for you (and feel free to jump in with your own suggestions!).
Before a long road trip, I usually write out a flexible meal plan to work from as I make my preparations. You can adjust this as you travel, but it helps to make sure you don't forget anything. Plan for plenty of finger food picnics!
Right before our departure, I schedule a baking day. I prepare items such as cookies, granola, granola bars, breads, and muffins for snacks & meals. (These likely won't last two weeks, but it gives you a head start.)
When packing your cooler, use "leak-proof" containers; otherwise your food will get soggy when the ice melts! Here are some staple items we like to pack:
Dried & Fresh Fruit
Containers of Veggies (already cut into finger food pieces)
Homemade Trail Mix (When traveling in hot weather, be wary of carrying chocolate, which can melt!)
Shelf-staple treats, such as Peanut Brittle
Jars of Peanut Butter
Eggs (Hard-boil some ahead of time, and pack raw ones in an egg holder; cardboard egg cartons dissolve in a cooler full of ice!)
Nitrate-free Hot Dogs, Pepperoni Sticks, Smoked Salmon, Jerky, etc. from a local meat market
Cheese (already sliced, and stored in a container in the cooler, or containers of Feta)
Quick-Cooking Grains (such as oats, quinoa, or millet) for hearty "one pot" meals boiled on a camp stove (or you can microwave quick-cooking oats).
Beans (You can cook some ahead of time, or pack dry or canned beans. Lentils and Split Peas are especially quick-cooking.)
Tortillas (These are your space-saving foods for the end of your trip, when the baked goods run out, and are a lightweight option for packing on a day hike.)
Canned Fish (Choose a healthy & sustainable option, such as wild Alaskan salmon.)
Lots of Pancake Mix (Prepare your own homemade "mix" ahead of time! When your bread runs out, make a big batch of pancakes at breakfast, and make sandwiches out of them for lunch.)

Popcorn (Pop a big batch to take with you, or pop some over a campfire/camp stove.)
Water (Make sure everyone has their own water bottle for the car, and fills them up before heading out for the day.)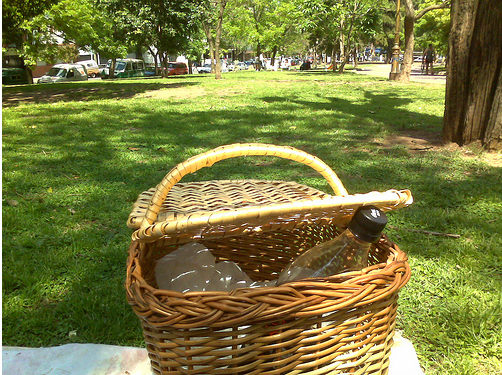 Meal Ideas:
Grilled Meats & Veggies (You can take along Shish Kebab sticks for a great "finger food" meal! Try eggplant, zucchini, mushrooms, bell peppers, or onions)
Campfire Roasted Potatoes or Sweet Potatoes (Wrap in foil, and tuck into the coals. Stuff with beans, cheese, & veggies after roasting)
Wraps (Our favorites are a combination of Salad Greens, Pear Slices, Feta, and Dried Cranberries in Whole-Grain Tortillas, or Black Bean Wraps.)
Veggie & Cheese Omelets (You can even do "breakfast for dinner.")
Fish Cakes (on the griddle)
Grilled Fish or Chicken at dinner can be transformed into salad sandwiches for lunch the next day.
When packing your kitchen supplies, take the bare minimum you need to prepare and wash up quickly, so that you can get back out on the road!
Kitchen Staples/Utensils:
Knives (Find ones with their own cover, so they can travel safely.)
Can Opener
Cutting Board
Biodegradable "All-Purpose" Soap (such as castile soap) & a scrubber for washing your utensils
A set of dishes for each person (Wash immediately after use, so you're not carrying dirty dishes!)
A few favorite spices: Cinnamon, an Herb Blend, and Salt & Pepper are usually sufficient
I like to take a heat-resistant silicone spatula/scraper/spreader, which works for almost everything!
While you're at hotels, remember to restock your cooler with ice (so you aren't buying ice as often).
A cooking pot and/or frying pan
A small jar of oil, container of butter, and a container of sugar/honey
Leak-proof containers for restaurant leftovers (to put in your cooler)
Shopping:
Before you head out, check Local Harvest (or area tourism information) to see if there are any Farmer's Markets or produce markets near your destination. It is a delicious treat to pick up local produce for your meals, instead of eating something that has been sitting in your car for a week! Doesn't a fresh cucumber, vine-ripened tomato, basket of berries, bag of salad greens, or a juicy peach sound nice?
So, what are your favorite travel tips? Did I forget anything?
Stay tuned for part 2 as Michele shares frugal and fun travel activities!