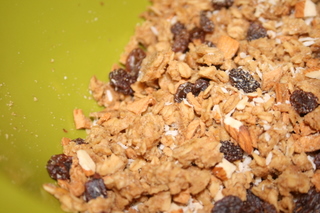 How about some yummy nutritious granola for a nice quick breakfast (especially that Sunday morning rush)? Or top some fruit and yogurt with this delicious concoction! This is a simple recipe that includes the nutritional benefits of soaking the grains, if you so desire. It is quite delicious and actually rather simple to complete.
I have been wanting to make my own cereal ever since reading about the wonderful processing, heating, and destroying of all nutritional value that goes into preparing store-bought cereals (a process called extrusion), even the healthy organic kinds. Sally Fallon discusses it in detail here.
This granola has a great balance of grains, nuts, seeds and fruit, and it adaptable to your own creative choices – making it a very well rounded balanced breakfast, especially topped with some milk!
I normally make 1/2 of a batch at a time and that makes 2 1/2 quarts, so one whole batch should make about 5 quarts of granola.
8 cups rolled oats
3/4 cup melted coconut oil
1/2 cup melted butter
1 1/2 cups kefir or cultured buttermilk (yogurt often produces a very tart flavor, unless you are skipping the soaking step)
1-2 cups water (use only as much as needed to produce a moist consistency for soaking)
1/2 cup raw honey
1/2-3/4 cup maple syrup (I increased the sweetener just a tad from the original, and I think it was almost perfect – so flex as you desire!)
1 tsp sea salt
4 tsp cinnamon
4 tsp vanilla extract
1 cup dried shredded coconut
1 cup raisins
1/2 cup sunflower seeds or chopped pumpkin seeds (I used the pumpkin seeds!)
1/4 cup minced dried figs (optional)
1 cup nuts (optional) – chopped almonds is wonderful!
1 cup dried apples, chopped
Directions:
Mix oats with the melted butter and oil, kefir and water in a large bowl. Cover with a cloth and/or plate and allow to sit at cool room temperature for 24 hours. After the soaking time, preheat the oven to 200° F (93° C).
Place honey, maple syrup, cinnamon and vanilla in a glass measuring cup in a small pot of warm water on the stove. Bring water to a gentle simmer, stirring honey mixture, until honey becomes thin.
Combine honey and oat mixtures, mixing to incorporate.
Spread mixture out over two parchment paper-lined cookie sheets (don't use regular paper – I learned this lesson the hard way!). Bake for 2-4 hours, until granola is dry and crisp. Four hours was perfect for a slightly softer granola in our oven, which was what we like. Allow to cool in oven before removing to a container. It will get crisper at it cools.
Mix in coconut, raisins, sunflower seeds, fruit and nuts, as desired. Store in an airtight container. Serve with chilled raw milk.
This recipe is a modification of Natural Food Recipe for Granola. Thanks to Michele at Frugal Granola for passing on the recipe.