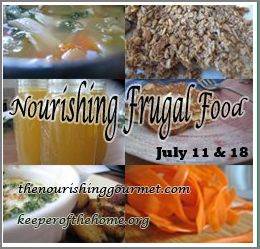 I am always on the look out for good nutritious foods to add to our list, especially meatless to incorporate twice a week in our menu plan! I am excited to see Kimi & Stephanie leading the way in collecting recipes to share with others in the way of stretching the food budget and still get the most nutrition out of our dollar. This week the focus is dinners.
Here are a few of my keepers that I have been trying over the last few weeks…black bean wraps & lentil w/rice casserole. Not amazingly exciting…but for a stretcher meal, these work well! I have found fresh herbs are the key to spicing up beans and lentils! Have fun doing some experimenting!
Black Bean Wraps
This is a modification of Michele at Frugal Granola's recipe, making it more frugal! Chicken may be added if desired.
We made this one night for dinner on tortillas and then I used the leftovers the next day in quesillidas topped with cheese, salsa, and sour cream. Yum!
1 cup cooked black beans (or 1 can, drained)
1 fresh tomato, diced
1 cup fresh corn
1/2 cucumber, diced
1/2 red onion, diced
1/4 cup or more chopped cilantro
2 Tbls. lime juice (or lemon!)
1-2 cloves of garlic, minced
Sprinkle of red pepper flakes, salt & pepper, garlic powder, onion powder, to taste
4 tortillas (If using homemade, make sure they are thin enough to roll up!)
Salsa, sour cream and guacamole, if desired
Stir fry the onions and garlic until translucent. Add the beans and remaining ingredients. Head through before laying on tortillas with other toppings, as desired
Lentil & Rice Casserole
Recipe modified from Sue Gregg's Main Dish Cookbook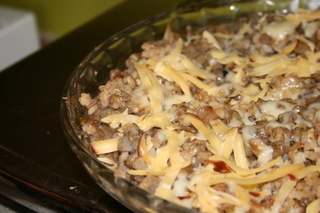 This also works well as a main dish for dinner and then using the leftovers as burritos fillings the next day!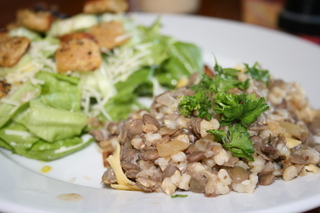 I served with fresh parsley on the top with a side Caesar salad. Also good topped with sour cream!
3 cups water or chicken broth
3/4 cup uncooked lentils, washed and soaked as needed
1/2 cup uncooked brown rice, washed and soaked as needed
3-4 Tbsp Liquid Aminos or seasoning salt, to taste
1 small onion, sliced in rings
2-3 garlic cloves, chopped
1 tsp cumin
1/2 tsp dried basil
1/2 tsp dried oregano
1/2 tsp dried thyme
1/2 tsp garlic powder
3/4 cup cheddar cheese, grated
fresh parsley & sour cream, if desired
Soaking Step, if desired for increased nutrition: Combine lentils, rice, and water to cover and juice of 1/2 lemon, whey, or another acid medium. Soak for at least 7 hours. After soaking, rinse the lentils and rice and add the amount specified above in water or broth to cook.
Fry onions and garlic in oil (I use coconut oil) for about 10 minutes until nicely browned. This adds wonderful flavor! Set aside. Combine remaining ingredients (except cheese and parsley) and layer in a casserole dish. Cook for 2 1/2 hours at 300 degrees until tender or the water is absorbed. About 10 minutes before completed, top with cheese and browned onions and cook till melted. Before serving, top with parsley.
Further Recipes:
For a wealth of recipe ideas, check out Marilyn Moll's blog, founder of the Urban Homemaker. She held a contest a few months back of all sorts of easy healthy vegetarian dishes. Check it out here! I am excited to try the black bean enchiladas, honey baked lentils, taco soup and more!
For some of my other frugal dinners, check out my Recipes section.
For more fun in the frugal food carnival, visit the Nourishing Gourmet.