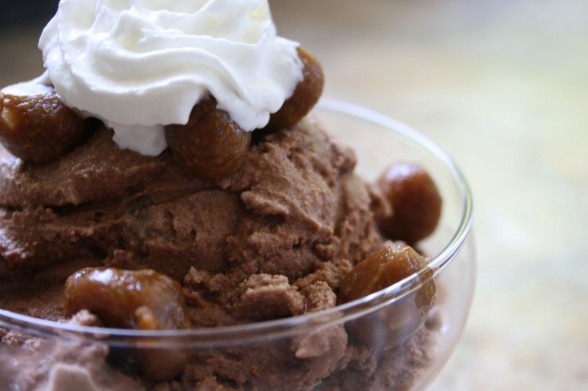 We have been enjoying 10 days straight of glorious sunshine here in the Northwest. It's a little taste of summer. We are soaking it up before it disappears back to rain. With summer on our minds…we have been thinking about homemade ice cream! Summer is such a fun time of year to whip up some homemade ice cream to serve to your family and friends. It is a fun thing to create in the kitchen with kids and come up with all sorts of yummy concoctions. Here are a few helpful tips and recommendations for making the best ice cream:
- Add more sweetener than you think – it kind of disappears in the freezing processing. You want to make it slightly too sweet when preparing and it will be perfect when frozen.
- The more cream the better- Try to go for at least 1/2 heavy cream and 1/2 whole milk. The more cream you use, the more creamier the results will be. I have also substituted coconut milk many times as well for easy dairy free ice creams. Coconut milk has a really nice creamy texture to it.
- Keep it simple. You don't need to add egg yolks or cook your ice cream as many recipes call for. Skip the eggs as they really aren't necessary in the recipe. Some say they make it creamer, but I haven't really noticed much difference. I just throw all the ingredients in my blender, whirl it around till smooth, and then throw it in to my ice cream maker. Works every time and takes less than 10 minutes to prepare.
- Transfer to another covered container and keep in your freezer for no more than 2 hours before serving. This will maintain the soft creamy texture. If you leave in the freezer too long, it will become very solid and more icy. If you have leftovers, just make sure to give it 20-30 minutes to thaw. But it will always be the best texture if served shortly after preparing.
- Use a quality ice cream maker - An electric ice cream maker is such a fun summer investment for your family. It gives you opportunity to make yummy ice cream with quality ingredients in just a few minutes. We have been using the Cuisinart Ice cream maker for several years now and we absolutely love it! It takes just 30 minutes to make a fresh batch of ice cream.
- Make sure your ice cream maker bowl is completely frozen for at least 24 hours before using! I have learned the hard way that it just doesn't work without this time period for the bowl to become re-frozen.
- To prevent freezer burn, make sure to wrap your ice cream maker bowl in a few plastic grocery bags and store in the freezer between uses in this manner.
Here are some of our favorite recipes:
Banana Ice Cream
Coffee Ice Cream
Chocolate Peanut Butter Ice Cream
Strawberry Ice Cream 
Egg Nog Ice Cream
Coconut Ice Cream 
And our newest concoction (pictured above)…
Chocolate Peanut Butter Cookie Dough Ice Cream
Adapted from Just Making Ice Cream 
Ice Cream:
2 cups heavy cream
1 1/2 cups whole milk (or substitute all milk for coconut milk for a dairy free alternative- yum!)
3/4 – 1 cup sucanat, sugar, honey, maple syrup, etc (use less if using honey or maple syrup)
2 teaspoons vanilla extract
1/2 cup cocoa powder
Cookie Dough:
1/2 cup sucanat, rapadura, sugar
1 cup peanut butter
1 egg
For cookie dough: Combine sweetener, peanut butter, and egg and combine until blended. Roll into very small balls and place on a cookie sheet. Place in freezer until frozen.
For ice cream: Throw all the ingredients in your blender and pulse until smooth. Transfer to your ice cream maker, and let it go! Once the ice cream maker has completed its cycle, fold in the cookie dough balls, even if they aren't totally frozen yet. Transfer to a covered container to store in the freezer for 1-2 hours before serving. Enjoy!
For a whole array of ice cream recipes make with real ingredients, check out Just Making Ice Cream. While I personally don't feel it necessary to add eggs or cook the ingredients as I mentioned before (I tend to be very simplistic), this ebook has lots of fun inspiring ideas for you and can easily be adapted for your preferences and choice of ingredients.