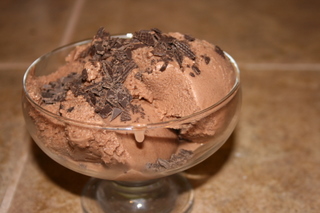 If you are anything like me, you love homemade ice cream! But not just any homemade ice cream…but a healthy and naturally sweetened dessert!
Our family absolutely loves homemade ice cream from our Cuisinart maker that we purchased awhile back (highly recommended by the way!). In a matter of 30 minutes we have a fresh batch of delicious ice cream! We can use quality raw milk and cream and an array of ingredients!
Here is our favorite concoction:
4-5 cups fresh whole milk (preferably raw – for more info on this, check out realmilk) – best texture is achieved by replacing 2 cups or more with heavy whipping cream (we scrap the cream off the top of our raw milk for this purpose)
1 cup peanut butter
1/4 cup cocoa powder
1/2-3/4 cup rapadura (our favorite natural sweetener choice, but you can also experiment with maple syrup, agave nectar, etc)
2 tsp vanilla extract
Combine together in a mixing bowl and pour into your ice cream machine, as the manufacturer's instructions suggest. If you don't own an ice cream machine…you can also just put it in your freezer till frozen!
For our coconut ice cream recipe, visit here.