Can you really enjoy the holidays without eggnog? At least not at our house!

I am always counting down the days till it comes into the store, and yet in reality I can have a homemade version year round that is far more nourishing! I have been experimenting with making homemade eggnog of late…so here you are! Enjoy a good quality protein holiday drink without extra preservatives and additives right from your own kitchen! Yum!
Holiday Eggnog
1 1/4 cups whole milk, preferably raw (using heavy cream makes for a thicker and creamier version like you would find in the store)
2 egg yolks, raw
2 tsp vanilla
dash of salt
1/4 tsp nutmeg
1/2 tsp cinnamon
3 Tbsp sweetener – honey or maple syrup (maple syrup is the best or half and half)
2-3 ice cubes
Combine all ingredients in a blender. Top with an extra dash of nutmeg!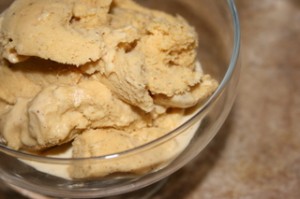 Eggnog Ice Cream
Double the recipe above, replacing half of the milk with heavy cream (optional, but it will make a more creamy final product), and increase the sweetener to about 1/3 cup, and put into your ice cream machine. A double recipe makes about 1 quart of ice cream or approximately 4-5 servings. Note: when preparing ice cream, you will desire to make it sweeter than you might think in the preparation process as it will lose some of the sweetness in the freezing process.