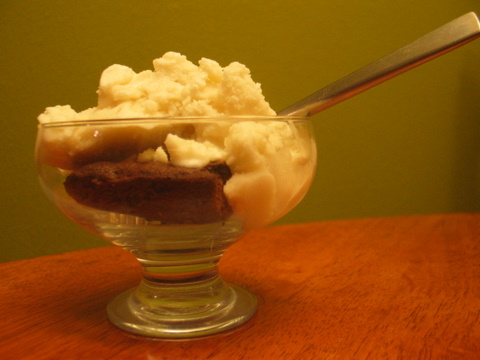 Coconut Brownies topped with Coconut Ice Cream
One of the challenges with eating a healthier diet is that desserts have to go out the window. So I thought. White sugar and white flour are the main ingredients of most of those delicious desserts you see all over the place. As I have been eliminating these two ingredients over the last year or so, I have been on the hunt for making nutritious desserts that you cannot even tell are healthy. That's what I always hated about healthy desserts…they just looked overly healthy and tasted so as well, and they incorporated expensive ingredients. I am here to say that it is possible!
At our home we limit dessert to once a week. Friday nights I aim to serve a nice dessert to my husband. He really enjoys these treats! One of the best purchases I have made towards providing nutritious desserts is the purchase of an ice-cream maker. This kitchen appliance is absolutely wonderful! No rock salts or anything added, simply plug it in, turn it on, and in 30 minutes you have a batch of wonderful homemade ice cream. You control the kind of milk, sweeteners, and additions, without additives, preservatives and all that other unhealthy and unknown additions. I have made several wonderful flavors, including vanilla, strawberry, coconut, peanut butter & chocolate, and pumpkin.
Over the next few weeks, I wanted to focus Tuesday Recipes on desserts. You want to join me? Here are a few of our favorite desserts for your enjoyment! The healthier eating lifestyle doesn't have to be so hard!

Coconut Brownies
An Edmonds Family recipe – thanks to my brother-in-law, Ben!
½ cup butter
1 cup rapadura ( or 2/3 cup honey and increase flour – I personally have not tried it with honey, so you will want to experiment!)
2 eggs
1 tsp vanilla extract
1/3 cup unsweetened cocoa powder (I have replaced half with carob powder)
½ cup whole wheat flour (increase if using honey)
¼ tsp salt
1 tsp baking powder
¼ cup shredded coconut
Preheat oven to 350 degrees. Grease and flour an 8-inch square pan. In a saucepan, melt the butter. Combine all ingredients with a mixer and spread into the prepared pan. Bake for 25-30 minutes. Do not overcook. Top with homemade coconut ice cream!
Coconut Ice Cream
1 can (15 ou.) coconut milk
2 cups whole milk
1 cup cream
½ – ¾ cup maple syrup
2-3 Tbls. Coconut extract
Mix all ingredients together and flavor with maple syrup and extract to your taste. Always maker it sweeter than you think, because it looks some of that flavor in the freezing process. You can use all whole milk, but it gives a creamer texture with part cream. Place in ice cream maker. For an icier version without the maker, you can simply freeze the mix and then serve.
Upcoming Recipes include the use of yummy berries, other great ice cream recipes, uses for extra milk, etc….please email me any successful nutritious dessert recipes you have made…love to share them!