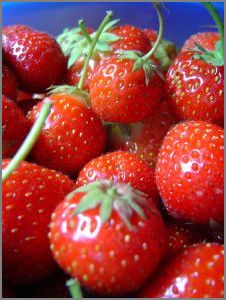 Those lovely juicy strawberries are coming off the vine and they are packed full of vitamin C to boost your immune system. Did you know that there is more vitamin C in the green leafy tops than in the red succulent strawberry itself? I freeze my strawberries for year round use and keep the tops on. When I prepare a smoothie, they get blended in quite nicely. Plus if you preserve the entire berry you have no waste and get more for your money!
Our favorite strawberry concoctions include…
Strawberry Ice Cream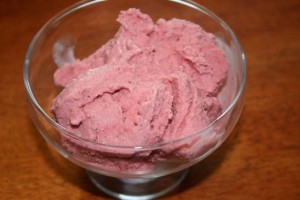 Strawberry ice cream is delightful! You can make your own homemade ice cream with whole nutritious ingredients and natural sweeteners without preservatives or additives of any kind. It is far superior than store bought!
4 cups milk (a combination of whole milk and cream is the best) or coconut milk (I love a combination of both!) – raw milk is my preferred choice
2-3 cups mashed strawberries, fresh or frozen
1/2 cup maple syrup or honey (sweeten as desired, just beware that you want it sweeter than you would think as it loses some sweetness in the freezing process – 1/4 cup maple syrup plus 3 Tbsp honey is just about perfect!)
1/4 cup strawberry jam, optional (this is a yummy addition to increase the strawberry goodness!)
Combine ingredients in a blender and blend until smooth. Place in your ice cream maker and set it to work. I cannot recommend the Cuisinart ice cream maker more highly! It wipes up a batch of ice cream in 30 minutes max!
Makes about 1 quart of ice cream.
Strawberry Feta Salad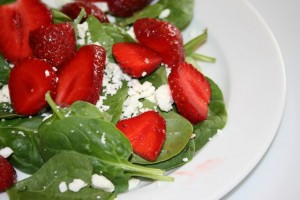 Our favorite salad of all time includes spinach, sliced strawberries, crumbled feta, and avacado chunks topped with our Creamy Poppyseed Dressing. Yum!
Strawberry French Toast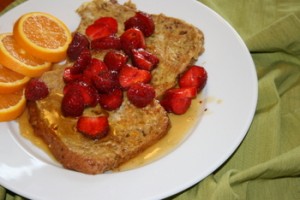 Strawberries on top of pancakes or french toast is a real treat!
What are your favorite ways to use strawberries?