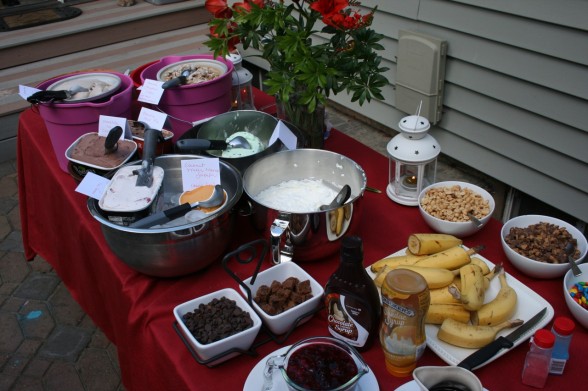 Aaron and I had a blast hosting our first ice cream social this past Sunday evening as a way to reach out and befriend co-workers and other folks we've been getting to know in the area. I didn't want to take on too much this summer while being late in my pregnancy (37 weeks!), but still wanted to take advantage of the lovely backyard we've been blessed with and all the sweet friends the Lord is sending our way! So we decided to host an ice cream social. It was a great success and was relatively simple to coordinate. If you don't have a lot of time or energy or financial resources, but still want to reach out and be hospitable this summer, I highly recommend this idea!
The menu was simple: vanilla, strawberry, and varieties of chocolate ice cream (cookies & cream, mint chocolate chip). I also added my own homemade concoctions of coffee ice cream and banana ice cream (recipes below) with healthier ingredients to meet the needs of those health conscious among my guests. And who doesn't like homemade ice cream? And lastly, I had a dairy free coconut water sorbet available. For toppings, I assembled bananas, fresh whipped cream, nuts, reese's peanut butter, m & m's, and homemade berry sauce and chocolate sauce. We also asked our guests to bring their favorite topping to share, so we had a plentiful supply!
It was so much fun and the ice cream was scrumptious! Did I say that my homemade versions turned out splendidly? Here are my recipes to get you inspired for your own homemade ice cream makings this summer!
Stumptown Coffee Ice Cream
I made this with our locally roasted Stumptown coffee beans, but you can definitely use any coffee beans. This tasted like a Starbucks frapaccino without all the junk and would make a great summer coffee beverage as well if you cut out freezing process. Yum! You can replace all the milk with all cream for a more creamy texture on any ice cream recipe. Homemade ice cream is also best made the day of within a few hours of serving so it maintains a more creamy texture. The longer it sits in the freezer the more icy it will become.

2 cups strongly brewed coffee, cooled (decaf was my choice in case anyone was sensitive to caffeine)
2 cups whole milk
2 cups heavy whipping cream
2 teaspoons vanilla extract
1 1/4 cup sucanat/rapadura (I used sucanat, but you can experiment with any natural sweetener here!)
Combine ingredients together in a blender until smooth. Transfer to your ice cream machine and follow the manufacturer's instructions. You can also place in a freezer safe covered container and freeze for several hours till frozen.
Yield: 2 quarts.
Banana Ice Cream
Do you like something fresh and flavorful, yet light and relaxing? Try this banana ice cream. It will satisfy that sweet tooth and still be naturally healthy for you.
2 cups whole milk
2 cups heavy whipping cream
5 bananas
1 teaspoon vanilla extract
1/2 cup raw honey
Combine ingredients together in a blender until smooth. Transfer to your ice cream machine and follow the manufacturer's instructions.
Yield: 2 quarts.
Want some healthy toppings?
Chocolate Syrup

1/2 cup cocoa powder
1 cup water
1 1/2-2 cups sucanat/rapadura
1 teaspoon vanilla extract
dash of salt
In a medium saucepan, whisk the cocoa powder, water, and sweetener until well blended. Bring to a gentle boil and boil for 6-10 minutes, until mixture becomes thick. Store in an airtight container in the fridge if not consumed in one setting.
Yield: 1 cup.
We use and highly recommend the cuisinart ice cream maker! It has served us so well in preparing more healthy treats for our family with real food ingredients! It whips up a batch of homemade ice cream in 20 minutes!
Fresh/Frozen Berry Sauce
This topping is a favorite at our home from pancakes, waffles, to ice cream! It can be used as a berry syrup for your breakfast topped with some fresh whipped cream!
1/2-1 cup water
2 Tablespoons arrowroot powder or cornstarch
2-4 Tablespoons honey (raw is preferred)
2 cups berries (fresh or frozen raspberries, blackberries or blueberries)
Blend 1/2 cup water, arrowroot powder, honey, and 1/2 cup berries. Cook and stir over medium heat until thickened and clear. Gradually add the remaining berries and enough water to reach the consistency you desire.
Yield: 2 cups.
There is nothing like hospitality to get you motivated to get cleaned and organized. I was amazed how much we were able to get done this weekend in preparation for our party!
Take advantage of the wonderful summer weather and invite a few friends, co-workers, neighbors, or family over for an ice cream social! You won't regret it!
Other homemade Ice Cream Recipes from my kitchen:
Chocolate Peanut Butter Ice Cream
Coconut Ice Cream
Strawberry Ice Cream