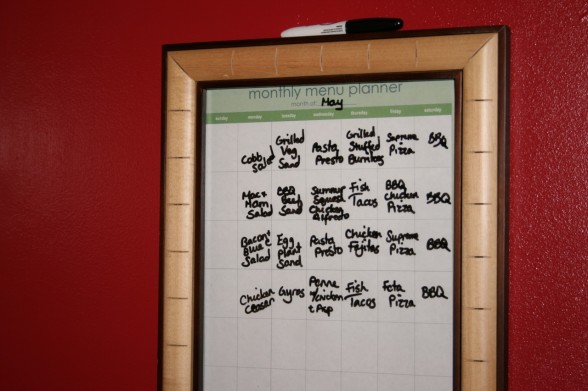 This last week, I shared with you all my updated Spring/Summer monthly menu plan. Although I can compile a monthly menu plan fairly easily since I have been following this method for a few years now, I rarely break it down week by week for myself. I haphazardly live day by day more often then not. What's for dinner tonight? Shoot…I forgot to thaw that meat out. Now what? Recently, I realized I just needed to get something visual before my eyes. I needed a place in the kitchen to display my menu to serve as a gentle reminder to make sure I make necessary dinner preparations for the week.
My solution?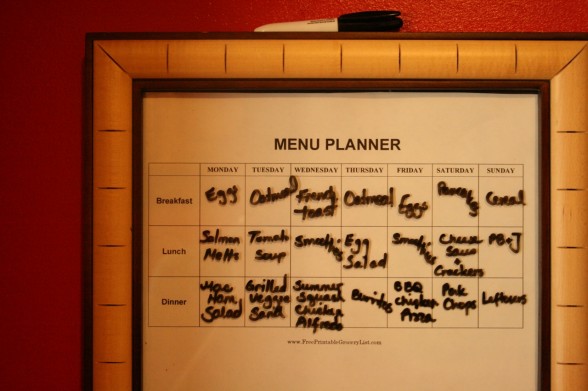 I took an old 8×10 picture frame with the glass inside and printed out a free menu planner document behind the glass. I then hung it up on the wall in my kitchen with a dry erase marker resting on the top of the frame. With this method, I can easily write in my menu for the week and see it clearly every day! I can erase with a napkin, toilet paper, or a rag, and start afresh next week. I like to make a monthly master list of my menu plan, but then like to break it down week by week and chose from the 4 selected recipes ideas for each day of the week (following my daily themes for meals) to see which is most appetizing for our family for the week. This gives us more variety and flexibility each week.
I tried it with both a monthly menu plan printable (pictured at top) and a weekly menu plan printable (pictured just above), and I think I have concluded that I prefer to display one week at a time so that it isn't as cluttered or confusing. But feel free to use whichever method you prefer! You could also use this same idea with a plastic sheet protector and tape it to your fridge!
There is no end to the ideas for using a repurposed frame for helping you stay organized. You could put your weekly schedule in there or keep track of whats in your fridge/freezer with an inventory sheet. Have fun!